Sign up for daily news updates from CleanTechnica on email. Or follow us on Google News!
---
On June 12, 2023 through June 13, 2023, U.S. Secretary of Energy Jennifer M. Granholm will travel to Texas to meet with utility and industry leaders to discuss the positive impacts President's Investing in America agenda will have for businesses and residents of Texas.
The Secretary will also join the Department's Energy Justice to the People community listening sessions for a series of sit-down conversations on DOE programs and funding opportunities designed to support disadvantaged frontline communities and advance U.S. energy security in a just and equitable way.
Strengthening Texas's Economy
Energy Jobs
In 2021, there were already 880,692 Texas workers employed in the energy sector.
In the Austin area, over 80% of the electric power generation workforce was in wind and solar, and over 15,000 workers were employed in energy efficiency.
In the Port Arthur area, solar and wind generation jobs make up 68% of the energy generation workforce, and energy efficiency employs over 2,600 workers.
The Inflation Reduction Act will expand these opportunities, bringing an estimated $66.5 billion of investment in large-scale clean power generation and storage to Texas between now and 2030.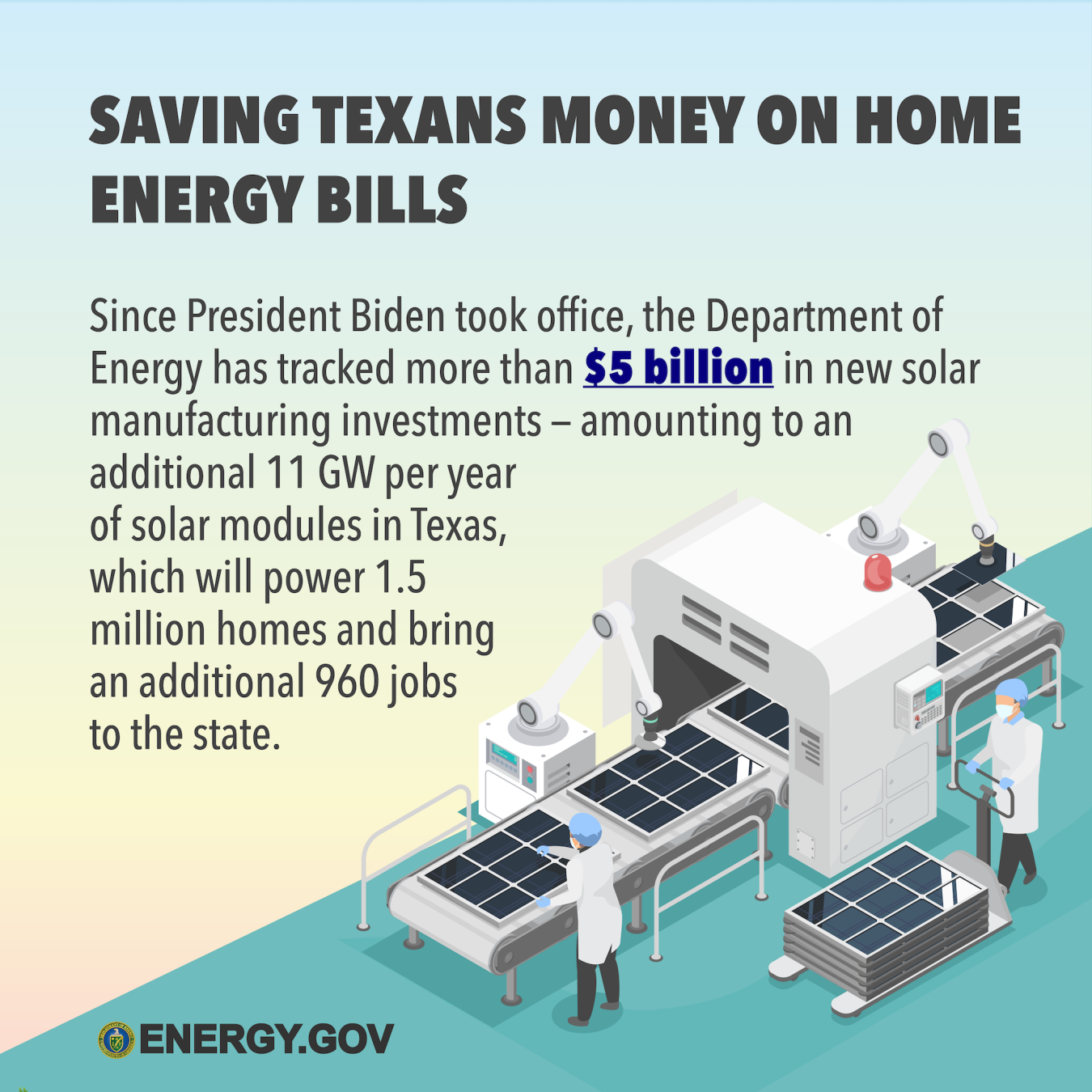 Small Business
Texas is home to 3.1 million small businesses, representing 99.8% of all businesses in the state and employing almost 45% of all Texas workers, and the Inflation Reduction Act will help them save money. Commercial building owners can receive a tax credit up to $5 per square foot to support energy efficiency improvements that deliver lower utility bills. Other programs that will benefit small businesses include tax credits covering 30% of the costs of installing low-cost solar power and of purchasing clean trucks and vans for commercial fleets.
Clean Energy Investment
Currently, Texas has over 55 GW of solar, wind, and storage capacity, making it the state with the most generation of renewable electricity in the nation.
Texas has over 42 GW of wind, solar, and storage capacity planned to come online in the next three years. The Austin area alone has almost 1.3 GW of additional planned clean energy capacity in the works.
IRA tax credits that encourage investment in wind and solar will help reduce energy costs, as the costs of solar and wind power are projected to drop by 23% and 31%, respectively, over the next 30 years in Texas.
Clean power projects provide $354 million in drought-proof land lease payments to farmers, ranchers, and other private landowners each year in Texas.
Since the start of the Biden Administration, the Department of Energy has tracked almost $125 billion in new battery supply chain investments, including $1.9 billion in Texas. In the same period, we have tracked more than $5 billion in new solar manufacturing investments. This includes an additional 11 GW per year of solar modules in Texas, which will power 1.5 million homes and bring an additional 960 jobs to the state.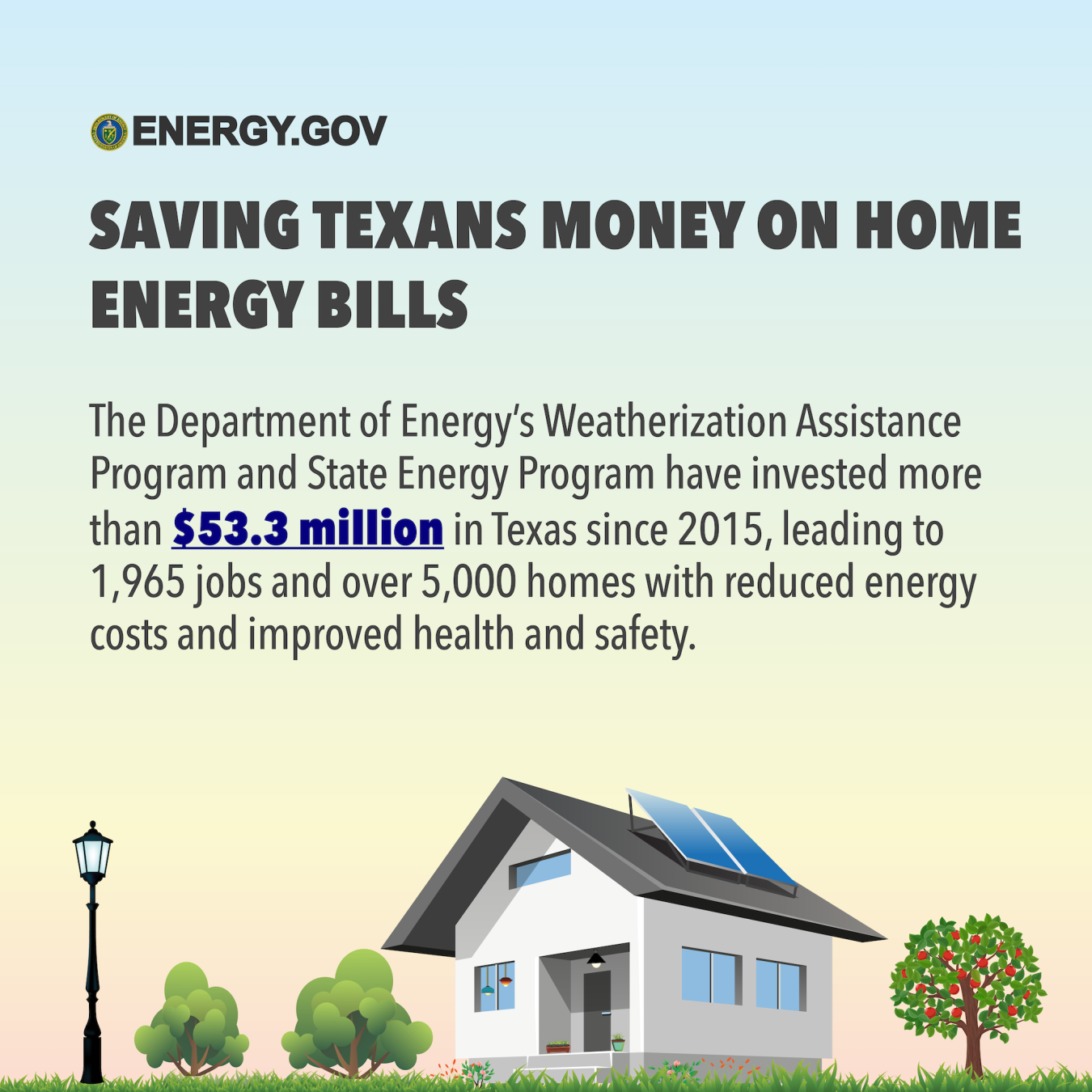 Clean Transportation
Texas has the third highest total EV sales in the country, with over 164,000 EVs registered in TX in 2022. Drivers switching from a gasoline-powered sedan to an EV could save over $1200 per year. For many, the Inflation Reduction Act is making it easier and cheaper to purchase an electric vehicle, with upfront discounts up to $7,500 for new EVs and up to $4,000 for used EVs, helping Americans skip the gas pump and save on fuel costs.
Texas has over 7,000 alternative fueling stations already, and the state will also receive over $86 million from the Bipartisan Infrastructure Law to further build out its electric vehicle charging infrastructure.
Investing In Texas's Communities
Thanks to funding from President Biden's Investing in America Agenda, the U.S. Department of Energy has made available more than $292 million in the past year to Texas's state and local governments to invest in energy efficiency and grid resilience.
Electroinks, based in Austin, TX, has also received a $750,000 grant to improve solar panel recycling technologies. This funding comes from the Bipartisan Infrastructure Law.
CelLink Corporation (CelLink), based in Georgetown, TX, received a conditional commitment in spring 2023 from the DOE Loan Programs Office (LPO) for a $362 million loan to help finance the construction of a domestic manufacturing facility to develop lighter and more efficient flexible circuit wiring harnesses for automotive and other industries.
Saving Texans Money on Home Energy Bills
DOE's Weatherization Assistance Program and State Energy Program have invested more than $53.3 million in Texas since 2015, leading to 1,965 jobs and over 5,000 homes with reduced energy costs and improved health and safety.
Texas will receive over $690 million to implement a Home Energy Rebate program in the state. Low-income households in the Austin and Port Arthur areas could save an average of 25% on their home energy bills when they upgrade their appliances and improve energy efficiency through this program. Upgrading appliances and improving home energy efficiency could save a total of 28,600 GWh of energy in Texas, enough to power 1.2 million homes.
IRA also includes grants to help state and local governments adopt the latest building energy codes, which would save the average new homeowner in Texas 8.9% on their utility bills. That amounts to $179 per year.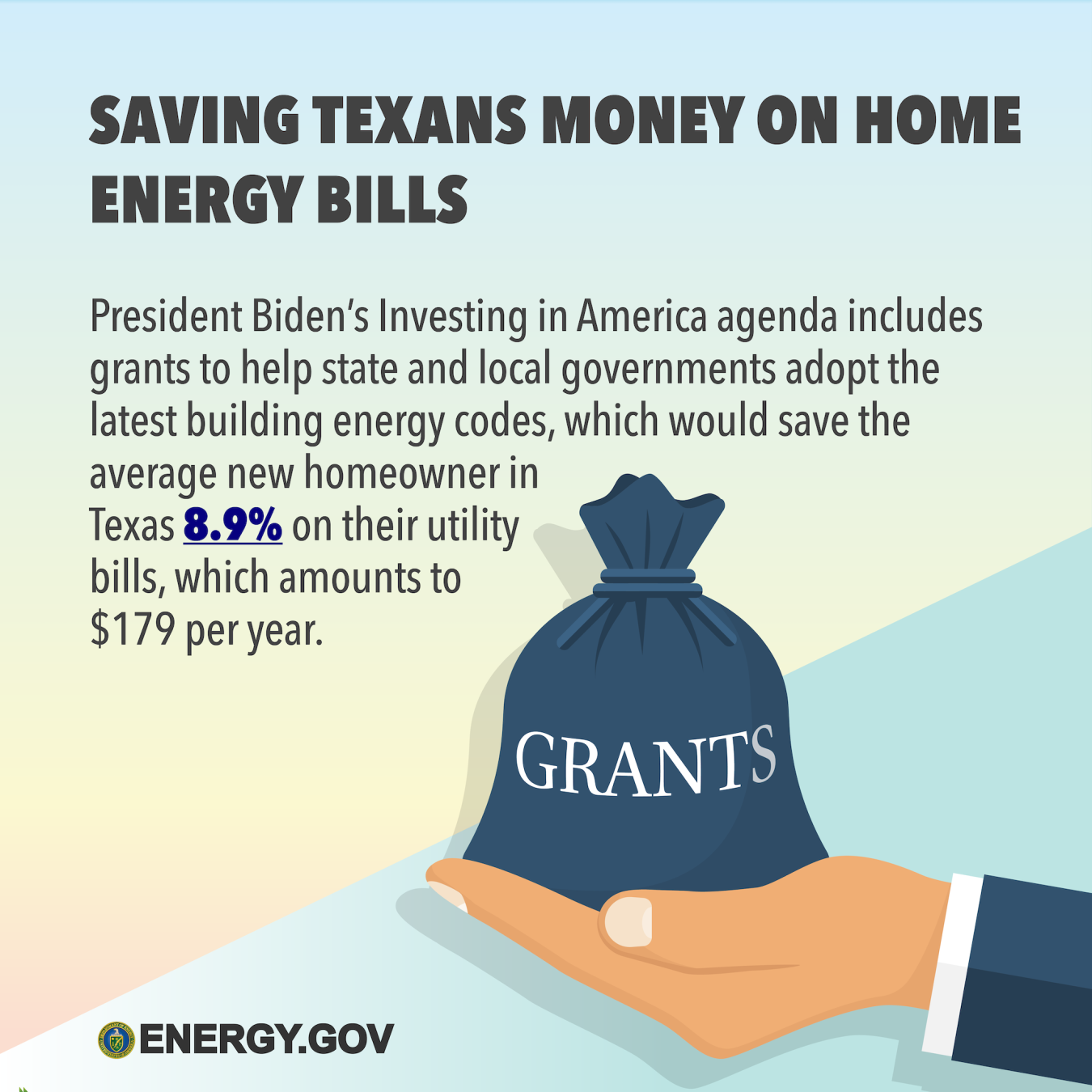 Prioritizing Texas's Underserved Communities
The Biden Administration has committed to advancing equity for all communities, including through the Justice40 Initiative, which aims to ensure Federal agencies deliver at least 40% of the overall benefits of climate, clean energy, affordable and sustainable housing, clean water, and other investments to disadvantaged communities. DOE has more than 140 programs covered by this initiative.
An Austin-based coalition, including Texas Energy Poverty Research Institute, several energy providers, the NAACP of Austin, and Travis County, is working with the DOE to widen access to residential rooftop solar among underserved communities. Another DOE-supported project in Austin is aiming to address energy affordability and reliability in communities that have historically been negatively impacted by discriminatory housing practices and unjust lending programs.
In Port Arthur, a multi-stakeholder coalition from across the city is working to develop an effective, replicable, and scalable approach to implement solar-plus-storage microgrids that build community wealth in underserved neighborhoods of Port Arthur.
For current DOE funding opportunities, visit: energy.gov/infrastructure
Originally published on Energy.gov
---
Have a tip for CleanTechnica? Want to advertise? Want to suggest a guest for our CleanTech Talk podcast? Contact us here.
---
EV Obsession Daily!
---
I don't like paywalls. You don't like paywalls. Who likes paywalls? Here at CleanTechnica, we implemented a limited paywall for a while, but it always felt wrong — and it was always tough to decide what we should put behind there. In theory, your most exclusive and best content goes behind a paywall. But then fewer people read it!! So, we've decided to completely nix paywalls here at CleanTechnica. But...
Like other media companies, we need reader support! If you support us, please chip in a bit monthly to help our team write, edit, and publish 15 cleantech stories a day!
Thank you!
---
Tesla Sales in 2023, 2024, and 2030
---
Advertisement
---
CleanTechnica uses affiliate links. See our policy here.