Sign up for daily news updates from CleanTechnica on email. Or follow us on Google News!
---
I've written about bicycles, bicycle safety, and, yes, cargo bicycles before — many times. Now, I'm offering more appreciation to my favorite e-bicycle of late, the Blix Aveny. Blix has a press release out about its new addition, and this cargo e-bicycle is even better for someone like me — it's a compact cargo e-bicycle.
I use a combination of e-bicycle and mass transit. So, that means lifting my bicycle into the bicycle rack and securing it in front of the bus. Batteries and the e-bicycles holding them are heavy.
Long ago and far away, I became more interested in safe bicycle paths, bicycle culture, side bicycles, and even cargo bicycles while on a working visit to Amsterdam. One night from 10:00 pm till 2:00 am, I sat on a step outside my hotel along Canal Street in Amsterdam. I was in Amsterdam for a long, indoor, global medical and holistic health conference.
Swish, swish — the bikes came and went, so quietly and musically. Grandma and grandpa gliding along with their grandchildren in a side bike as they rode home from the store or restaurant. Individuals, sometimes couples side by side, and a cargo bike or trike occasionally breezing by. It was a quiet cultural movement of life apart from traffic, with not a car in sight. As I chatted with the desk clerk about my experience as an American, enjoying this peace beyond cars, he pointed out: "Time, we have time in this part of the world." I couldn't argue his observation nor would I want to. Perhaps there is some link between the immersion of travel, life, and bikes that lend more contemplation to one's experience of time.
I live much of the year in a car-centric state of the union. I spoke with an employee at the bicycle store where I had the Blix Aveny e-bicycle put together for the second time. He said bicycle concerns were changing in regards to protected bicycle paths in this city. We had noticed a flourishing e-bicycle store when we dropped the Blix bicycle off. It seems that the city has many baby boomers who are e-bicycling in the city, with that segment increasing rather nicely in the short few years since my first visit to that particular bicycle shop. Perhaps they, as I do, care to prevent cognitive decline as much as possible.
A good day for throttle mode
I had already bicycled across the city partway the day I picked up the Aveny. It was hot, and I felt overworked. I took the longer, safer route home on the Blix e-bicycle. As it was my second cross-city bicycle ride that day — and I was quite hot and fatigued — I was happy I had enough e-bike battery charge to get home on mostly the battery alone, just using throttle mode. It was wise to move slowly and exert less energy after hard pedaling (that day) — additional safety is useful when older, fatigued, potentially overheated, and susceptible to getting dizzy from the Florida sun.
The nice thing about the Blix Aveny is that one can simply use the handle to add the electric component. Keeping one's balance can be established by practicing slowly in a quiet area to set the harmony of cyclist and battery power. I did so behind the store and cruised off into the quiet neighborhoods on empty sidewalks.
We have only tiny bike lanes running next to drivers in my city, when there are bike lanes at all. Drivers are impatient with pedestrians and bicyclists for the most part. Sarasota does not have large, protected, separated, bicycle paths. So, to be safe in Sarasota, you often have to stay on the sidewalk — the Aveny works for that, smooth and helpful assist, but not too sporty that it is too fast for the often uneven sidewalks.
Bicycling and Pedestrians
My Blix e-bicycle was quite the perfect one for cruising home on back streets and sidewalks if necessary. I take the measure of safety to get off my bicycle while on a sidewalk when I see a pedestrian and then walk the bicycle and myself by them in a quiet, unassuming manner. This is so as to not make the pedestrian jump in fright or change their gait — a bicycle whizzing by on the sidewalk can be unnerving. They appreciate it. I also find myself in a conversation sometimes, explaining to them that I have pedestrian insurance as well. The interesting thing about the press release for the Blix Compact Cargo e-bicycle is that it suggests the Blix will replace your car. Well, the Aveny step-through did for me.
The fresh Blix compact cargo e-bicycle, Packa, can do this for a growing family!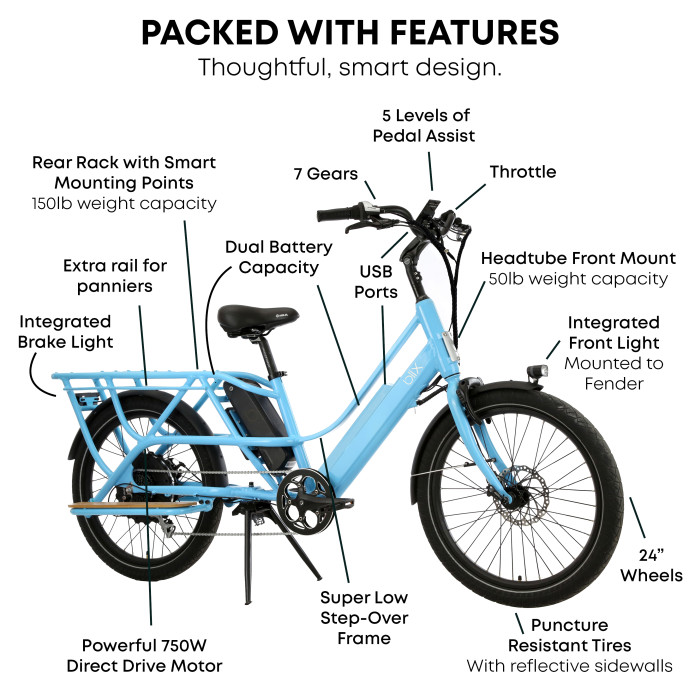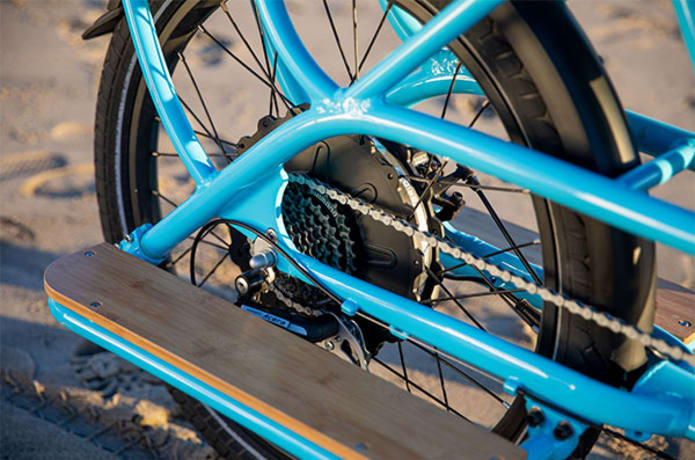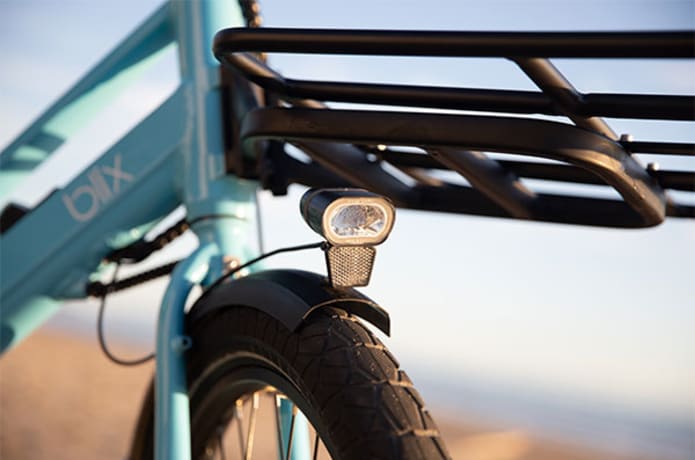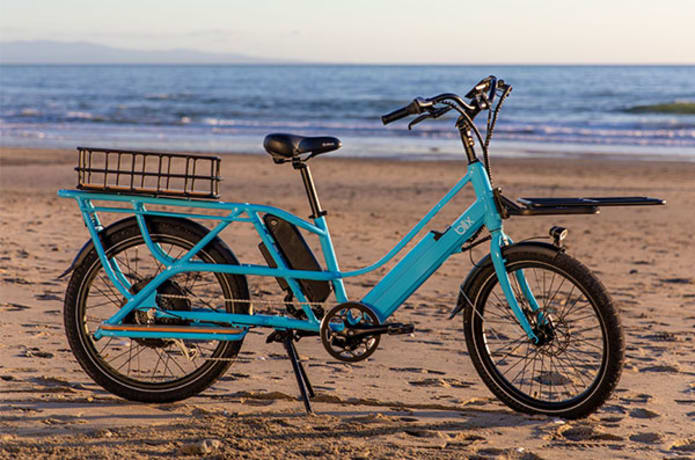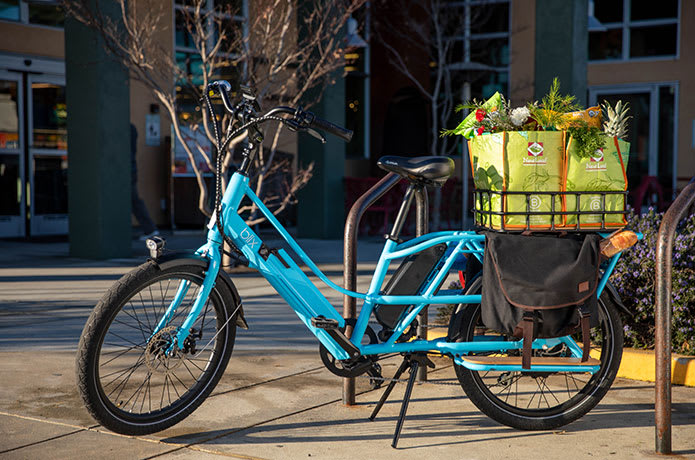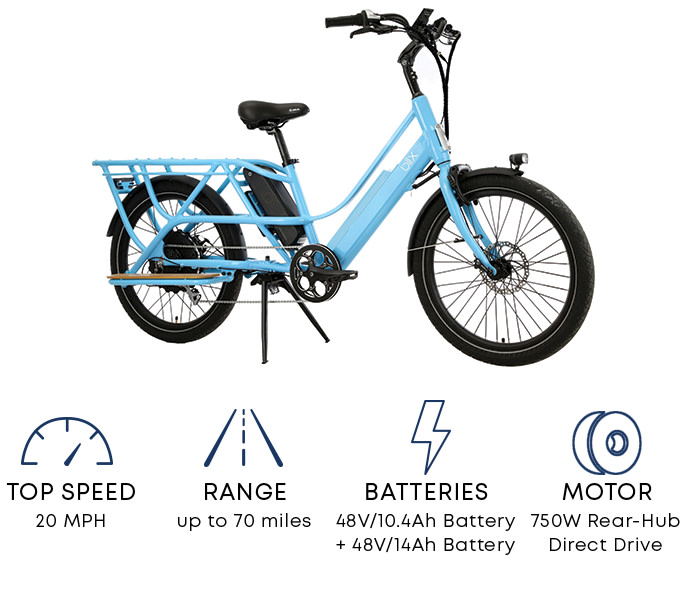 Check out this comprehensive review of the e-bike:
Packa Electric Compact Cargo Specs
Here are more details/specs if you are eager for those:
Speed: 20 mph
Range: Up to 70 miles with dual battery
Battery: Dual battery
Capacity: Single battery Samsung 48V / 10.4 Ah (518wh); Dual includes additional Samsung 48V / 14 Ah (672Wh)
Motor: 750W Rear-hub motor, Direct drive technology
Pedal Assist: 5 levels
Throttle: Yes — up to 20 mph
Brakes: Mechanical disc-brakes
Gears: 7-speed, Shimano Acera
Tires: CST 2.4"
Wheel: 24"
Seat Tube: 15.5"
Weight: 72 lbs w/ 1 battery, 79 lbs w/ 2 batteries
Accessories: Fenders, lights, running boards & kickstand included
Fits humans 5'1" — 6'3"
Reach up to 20mph and 70 miles per charge.
Over 200 ways to carry up to 200 lb of cargo when utilizing the multi-modular racking system.
"The Blix Packa is built for performance and utility with smart and stylish design," the company writes. Indeed, it is.
---
Have a tip for CleanTechnica? Want to advertise? Want to suggest a guest for our CleanTech Talk podcast? Contact us here.
---
EV Obsession Daily!
---
I don't like paywalls. You don't like paywalls. Who likes paywalls? Here at CleanTechnica, we implemented a limited paywall for a while, but it always felt wrong — and it was always tough to decide what we should put behind there. In theory, your most exclusive and best content goes behind a paywall. But then fewer people read it!! So, we've decided to completely nix paywalls here at CleanTechnica. But...
Like other media companies, we need reader support! If you support us, please chip in a bit monthly to help our team write, edit, and publish 15 cleantech stories a day!
Thank you!
---
Tesla Sales in 2023, 2024, and 2030
---
Advertisement
---
CleanTechnica uses affiliate links. See our policy here.