Originally published on The Conversation.
By Roger Dargaville of Monash University, Changlong Wang of University of Melbourne, and Scott Hamilton
Politicians around Australia are proposing ambitious plans to export renewable energy from Australia, using high-voltage power lines laid under the oceans.
But will this work? Our research is investigating the economic and environmental case for Australia to become an Asian energy superpower.
Our recent study, which will be presented on December 11 at the UN Climate Change Conference, models electricity generation and demand – as well as the cost of augmenting and extending transmission infrastructure. We found a transmission network connecting Australia to Indonesia could help both nations achieve 100% renewable electricity by 2050.
This is in line with a UN push for more global power connections. Exporting clean power from countries with strong infrastructure to burgeoning global populations may be key to reaching the Paris Agreement climate targets.
Indonesia's Rapid Growth
Indonesia's energy system is grappling with increasing demand, rising costs and carbon constraints. Official figures estimate demand in the Java-Bali system alone will rise by at least 6.8% per annum by 2030. Based on this trend, total demand will increase tenfold by 2050.
---
Read more:
Australia tries to unlock the benefits of proximity with Indonesia

---
Our modelling found that, in the absence of a climate policy in Indonesia, the cheapest option is to meet all demand with domestic fossil fuel, primarily coal and natural gas.
However, if Indonesia wishes to achieve a carbon-neutral power system, it will be extremely difficult to meet the extraordinary growth in demand with domestic renewables alone.
Indonesia would need to build a huge amount of renewable capacity to meet peak demand, which would then go to waste most of the time. The lack of high-quality wind and solar resources, and a broad geographic area make this route very costly.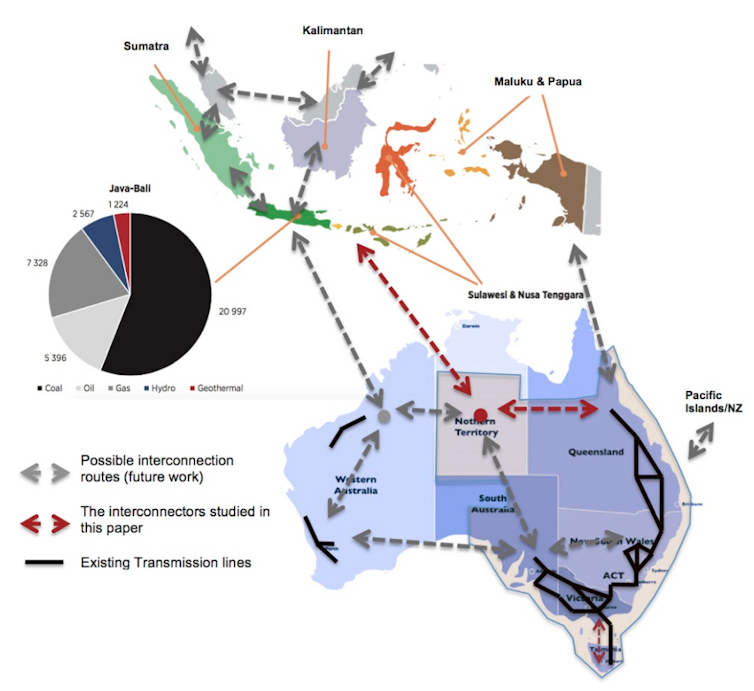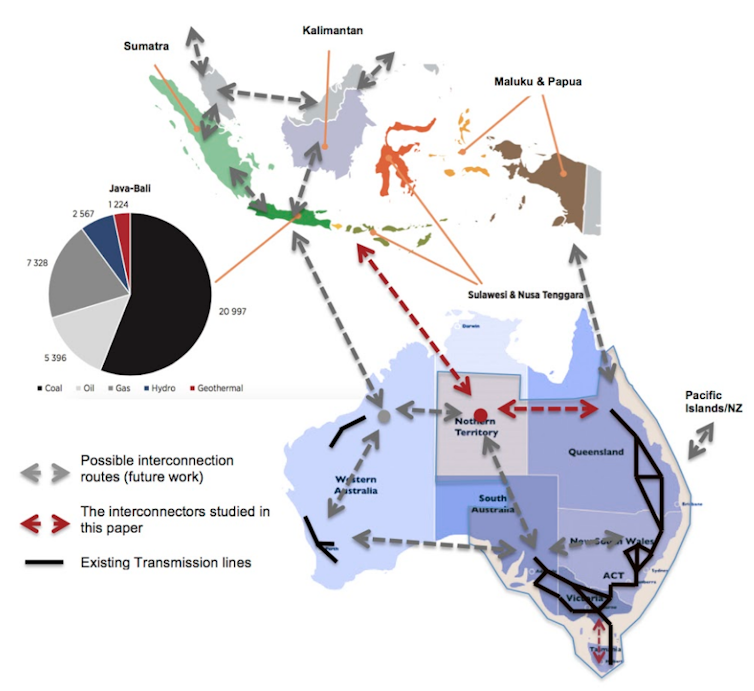 Australia Can Help
Australia's northwest desert region has some of the world's best solar and wind resources. An underwater high-voltage Direct Current (HVDC) link connecting Indonesia's Java-Bali power grid to the Australian National Electricity Market grid through the Northern Territory would help both nations to achieve a 100% renewable power system by 2050.
An interconnector would change the Java-Bali decarbonisation pathway dramatically. In this scenario, power generation in Java-Bali is greatly reduced due to imports; energy wasted from local wind and solar PV becomes negligible. A large amount of electricity is imported into Java-Bali from Australia, especially in the evening after the sun has set and the PV in Java-Bali stops generating.
We could also take the opportunity to connect the Northern Territory to the rest of Australia's energy market through an above-ground transmission line. Any wind and solar energy not used by Indonesia could then be fed to the national grid.
Australia could then meet the bulk of its energy needs through wind power, since strategic placement of wind farms would minimise variability in generation. Our models also favoured coupling wide-scale solar power with pumped hydro facilities. Pumped hydro can store solar power during the day and send it into the grid during the evening, and thus stabilise the entire operation.
Despite the high cost of building this infrastructure, our research found a 100% renewable Australasia power system could reduce wholesale electricity costs by more than 16%. Our estimates may be on the conservative side, as we assumed a constant cost for the HVDC technology but it's likely to become cheaper in the coming decades.
The model finds that the optimal configuration of the international connector from NT to Indonesia is a staggering capacity of 43.8GW with construction starting from 2030. The optimal regional transmission from NT to the east coast would have a capacity of 5.5GW.
---
Read more:
The renewable energy train is unstoppable. The NEG needs to get on board

---
Incentives Moving Forward
Australia is one of the most vulnerable developed countries in terms of risk from climate change. It is in our interest to promote a strong global response. Australia has inherent advantages in terms of our abundant renewable resources and geographical location in the Asia Pacific. (Of course, there are political complications to overcome.)
Future research will expand the geographical scope of the current study by considering more domestic and international interconnection options to assess the economic viability of a larger Australasian super grid. The recent suggestion for electrification of Papua New Guinea and meeting the energy demands of Pacific island nations are two examples. Comparison with hydrogen exports, which might involve conversion of renewable energy into hydrogen or ammonia to allow export by ship, will also be studied.
Our ultimate goal is to build a coalition of nation builders to make Australia a renewable energy exporting superpower.
---
The authors presented their research at the GEIDCO's event co-hosted with IEA at COP24 Poland.

Roger Dargaville, Senior lecturer, Monash University; Changlong Wang, Researcher, The Energy Transition Hub, University of Melbourne, and Scott Hamilton, Strategic Advisory Panel Member
This article is republished from The Conversation under a Creative Commons license. Read the original article.
---
Sign up for daily news updates from CleanTechnica on email. Or follow us on Google News!
---
Have a tip for CleanTechnica, want to advertise, or want to suggest a guest for our CleanTech Talk podcast? Contact us here.
---
Former Tesla Battery Expert Leading Lyten Into New Lithium-Sulfur Battery Era — Podcast:
---
---
I don't like paywalls. You don't like paywalls. Who likes paywalls? Here at CleanTechnica, we implemented a limited paywall for a while, but it always felt wrong — and it was always tough to decide what we should put behind there. In theory, your most exclusive and best content goes behind a paywall. But then fewer people read it! We just don't like paywalls, and so we've decided to ditch ours.
Unfortunately, the media business is still a tough, cut-throat business with tiny margins. It's a never-ending Olympic challenge to stay above water or even perhaps — gasp — grow. So ...