Originally published at ilsr.org.
It's an election year, and while many are already focused on the fall midterms, those who care about local energy should pay attention to another key vote next week. In a ballot initiative scheduled for Tuesday, May 1st, the voters of Decorah, Iowa, a small town in the northeastern part of the state, will head to the polls to decide whether or not the community should reign in their incumbent, investor-owned electric utility to take power into their own hands.
Fed up with their electricity provider Alliant Energy, one of Iowa's largest monopoly utilities, Decorah area residents decided to explore their options for pursuing cleaner, local energy and how the city could create a municipal electric utility for its 8,000 residents and business community. Advocates formed Decorah Power, a grassroots group of residents and community organizers making a clear case for municipal control, and the group has been garnering support for putting the public back in their public utility.
In advance of the referendum vote, Andy Johnson and Joel Zook, local energy leaders, sat down with John Farrell, ILSR's director of Energy Democracy, about a new feasibility study of a municipal utility for Decorah, what comes after the upcoming ballot initiative, and strategies other towns can employ to fight incumbent electric companies who use ratepayers' utility bills to finance scare-tactics and opposition. This is Local Energy Rules.
Feasibility of a Municipal Utility for Decorah
After the city of Decorah started considering its options for switching from the incumbent, investor-owned utility Alliant Energy to a local, municipally operated one, community leaders commissioned a feasibility study of the proposed Decorah Electric Municipal Utility to see how the community would fare economically, if they made this switch.
In describing the results of the study, Zook shares his surprise to find just how favorable Decorah's municipal utility could be when compared to the status quo under Alliant Energy's monopoly.
"We were hopeful that we would have some positive economic benefits of the feasibility study just looking at what our rates are currently and compared to what other municipal electric utilities' rates around Iowa are," Zook notes. "But we were a little overwhelmed honestly by how good the [Decorah municipal utility] rates looked."
So, what could switching to a smaller, municipal utility ultimately mean for the city and residents of Decorah? Without compromising service or reliability, the feasibility study projects a bottom line savings of 30 percent from current rates or about $5 million per year—a significant sum for a small town.
"And the question would become, 'What is it that a city could do with that savings?'" Zook asks rhetorically, "Offer to customers as rate relief? Pay down debt more quickly from that [utility] acquisition? Or, more investment in local infrastructure?"
Johnson explains why residents should expect these savings from a switch to a smaller, municipal utility. He outlines how a lack of competition creates more expensive services under existing, monopoly utility models.
"Investor-owned utilities, including our current incumbent, have had no competitive pressures to be leaner and more efficient … They're very big and possibly quite bloated, and that's what studies that look at municipal utilities, ours and others, find," Johnson notes. "Many of our peer municipal utilities in Iowa function much more efficiently than investor-owned utilities."
Municipalization 101: A Ballot Initiative and Beyond
In most places, communities have no choice in where they get their electricity. A majority of states have granted monopolies to big electric companies that are overseen, sometimes inadequately, by public regulatory commissions. As a final accountability check, however, cities often retain the power to take over the utility, as needed, and run it as a public service, in a process known as municipalization.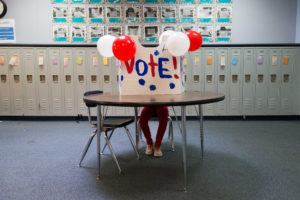 For those unfamiliar with how cities go about municipalizing their electric companies, Johnson shares background on how the upcoming ballot initiative fits into a larger decision-making process and what city residents, such as those in Decorah, could expect moving forward, if the community votes in favor of local utility control.
"In Iowa—and this process varies by state because regulation varies by state—if a community wants to pursue [a municipal utility], first they have to hold a community referendum, and if the referendum vote is positive … then the community can take an application to the Iowa Utilities Board, which is the state regulator, and apply essentially for … the right to serve the customers within their territory," he explains.
If voters decide to move forward, the City of Decorah would submit a more detailed application to the Iowa Utilities Board, the state's electricity market regulator. That commission would make the final decision about whether or not the city can move forward in creating a utility.
"If the economics still hold up, the Utilities Board then essentially rules in 'the public interest.' They're not required to rule in favor of the community—they could rule either way," Johnson continues and explains that after that decision, either the city or Alliant Energy could go to the courts to challenge the final decision, if needed.
Decorah's upcoming referendum is just one milestone in the town's fight for local power, revealing a long and potentially arduous road ahead. The municipalization process isn't quick. In Boulder, Colo., for example, which passed its initial ballot initiative in 2011, the municipal takeover process is still ongoing. But, the process itself has some clear benefits for the community, too.
"Most Energy Literate" Small Town in America
Regardless of the outcome of the ballot initiative, residents of Decorah have benefited from starting a conversation about their local energy future.
"The community has been really engaged on all of these issues," Zook explains. "Everybody's been asking about not just rates, not just reliability, not just where the energy is coming from, and what kind of energy efficiency programs a new utility would have—all of that gets asked, I think by everybody. And … everybody's interested in the big picture."
City government has organized meetings and town halls on the issue to educate voters, and, in March, Decorah Power invited ILSR's John Farrell to present research on the advantages of local control to the community in a well-attended forum.
"It's been really interesting to watch the community start to get engaged on energy issues," shares Zook when describing the campaign process.
"I think Decorah is now one of the most energy literate small towns in America," he adds.
Industry Playbook of a Monopoly Utility
Even with economics and an engaged community on the side of municipal control, Decorah Power's campaign has had an uphill battle contending with the deep pockets, lobbying power, and marketing strategy of Alliant Energy.
In order to protect their powerful position and profits, there are numerous examples of monopoly utilities investing in opposition campaigns against grassroots efforts for local control. Examples from Comcast and CenturyLink's million dollar fight against a community-led effort to create a municipal Internet broadband network in Fort Collins, Colo., to Alliant Energy's high-profile legal battle against solar energy in that made its way to the Iowa Supreme Court (Alliant ultimately lost), reveal these fights are nothing new and illustrate the similar tactics investor-owned monopolies employ across sectors.
In the case of Decorah's proposed municipal electric utility, Alliant Energy has not revealed how much it has spent on its opposition campaign, but they have certainly put up a fight—financed by customer utility bills, no less.
"We don't know exactly what Alliant is spending, but I suspect it may not be too far from ten to one [to dollars raised in favor of the municipalization effort]… It's a very large advantage for sure," Johnson explains.
"Which raises a fair amount of questions about the regulated monopoly approach to investor-owned utilities," Johnson adds. "The money Alliant is spending—or any investor-owned utility around the country that might engage in a 'No!' campaign to try to prevent a community from taking its destiny into its own hands—the money they spend is our money initially … All of those dollars originated from the ratepayers."
"We were told at the beginning that there is an industry playbook for dealing with a municipalization effort," Zook recalls. "And if you can scare half the community off, that can be successful strategy."
Note: There is literally an anti-municipalization playbook.
But this playbook is not a campaign or marketing strategy that organizers with Decorah Power want to emulate. Instead, they have invested time and energy in leveraging their small town and community relationships in a more positive way.
"It's easy to talk to people. One of the great things about being in a small town is that you know a lot of folks," Zook explains. "And so, being able to talk to people, present them with facts, and back up the numbers—that's something I think we, as this group of citizens, have to our advantage."
Local Power Conversation Doesn't End at the Polls
While the fight for municipal control can be a long and at times unpleasant road, Zook and Johnson plan to continue to work on local energy issues—including following how the community responds to planned rate increases that Alliant Energy has proposed, getting involved in state and local level fights on energy efficiency and solar energy, and telling the story about Decorah's municipal utility fight.
"The economics have been an eye opener," Johnson says, as he describes one of the take-home messages that he and his fellow community members have learned.
"We realize the amount of energy we all spend, and that … it's a giant sucking sound of dollars leaving our communities, year after year. So, I think this process has awoken folks in our community to that reality of where those dollars are going and to the opportunity to keep them local. That conversation will not end with this vote."
The resolve and commitment Johnson, Zook, and the residents of Decorah, Iowa, have to local power and to the democratic process is something other communities can certainly take to heart in the election year ahead.
Find our previous podcast with Decorah Power advocates, our interview with Andy Johnson about the drive to keep energy dollars local with the Winnieshiek Energy District, and all Local Energy Rules podcast episodes here.
For a map of the nation's 2000 existing municipal electricity utilities, see ILSR's Community Power Map. Click here to learn more about the municipalization fight in Boulder, CO.
This article originally posted at ilsr.org. For timely updates, follow John Farrell or Marie Donahue on Twitter, our energy work on Facebook, or sign up to get the Energy Democracy weekly update.
Photo Credits: StephenVelasco (Featured Photo: Voting booths), Phil Roeder (Vote!), Robanov83 (Decorah, Iowa) via Flickr (CC 2.0).
---
Sign up for daily news updates from CleanTechnica on email. Or follow us on Google News!
---
Have a tip for CleanTechnica, want to advertise, or want to suggest a guest for our CleanTech Talk podcast? Contact us here.
---
Former Tesla Battery Expert Leading Lyten Into New Lithium-Sulfur Battery Era — Podcast:
---
---
I don't like paywalls. You don't like paywalls. Who likes paywalls? Here at CleanTechnica, we implemented a limited paywall for a while, but it always felt wrong — and it was always tough to decide what we should put behind there. In theory, your most exclusive and best content goes behind a paywall. But then fewer people read it! We just don't like paywalls, and so we've decided to ditch ours.
Unfortunately, the media business is still a tough, cut-throat business with tiny margins. It's a never-ending Olympic challenge to stay above water or even perhaps — gasp — grow. So ...