Sparking Grid Savings at Home Report: Part 1 – Big Potential Savings
Sign up for daily news updates from CleanTechnica on email. Or follow us on Google News!
---
Read the full report here.
Introduction
In the past decade, two major trends have threatened the ability of electric utilities to meet the needs of the electricity system. The first is that national electricity sales have flattened, a reversal of nearly 100 years of constant growth, while peak energy use has continued to climb. In other words, at certain moments each year, the grid is strained to capacity by the simultaneous electric use of all customers. Traditionally, utilities have built new power plants to accommodate these moments of intense use. But now utilities can't recover the costs of these power plants as effectively, as more efficient appliances and lighting lower the total amount of energy sold annually. The chart below shows the remarkable reversal of this trend.
The second challenging trend is a need for flexibility. Wind and solar energy production are growing, and utilities have traditionally focused on flexible supply rather than demand. Now, utilities need low-cost tools to maximize flexibility, such as ways to adjust energy demand, not just supply. The chart below, from the U.S. Energy Information Administration, illustrates this need for flexibility on the California electricity grid.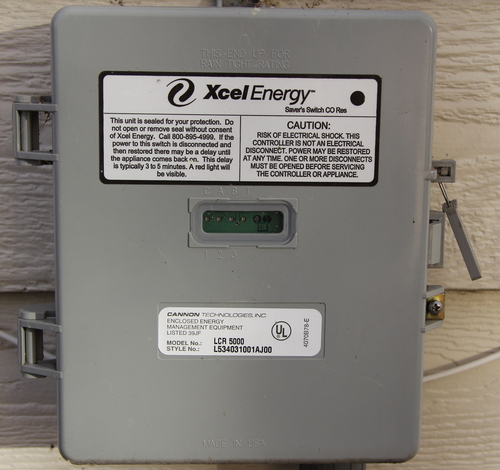 Fortunately, there are solutions. For years, utilities have reduced the problem of peak energy demand by controlling customer energy use. Xcel Energy in Minnesota is one of many utilities integrating basic "demand response," using radio controls (right) on customer air conditioners to cycle them off over 15-minute intervals, reducing grid-wide peak energy consumption. The company's Savers Switch program can reduce electricity demand by 300 megawatts by controlling the air conditioners of 400,000 residential and commercial customers.
Other utilities are adopting new technology, from smart meters to smart thermostats. These tools allow the utility to price energy based on the time of use and its actual cost, offering customers an incentive to use power when it costs less to deliver and giving the utility more control over energy use.
These programs have just scratched the surface.
New technology, particularly in the hands of electric customers, is creating an unprecedented opportunity to move beyond air conditioners and tap the many other sources of controllable electricity demand in homes and businesses. Utilities, like Xcel, should harness these lower-cost ways to meet rising peak energy demand.
Big Potential Savings
Customers empowered with smartphones, smart apps, and smart devices can already adjust their energy use (and lower their costs) in response to the needs of the electricity system. A variety of smart thermostats can be controlled from smartphones, such as the one in the author's home (right). Customers can restrict when they run appliances or charge electric vehicles to times with low power costs. And in some markets, companies aggregate these empowered customers to lower overall energy demand significantly using "automated demand response."
Below are a few potent examples of how utilities access available energy resources in homes and businesses when the grid needs more power.
Peak Reduction from Commercial Buildings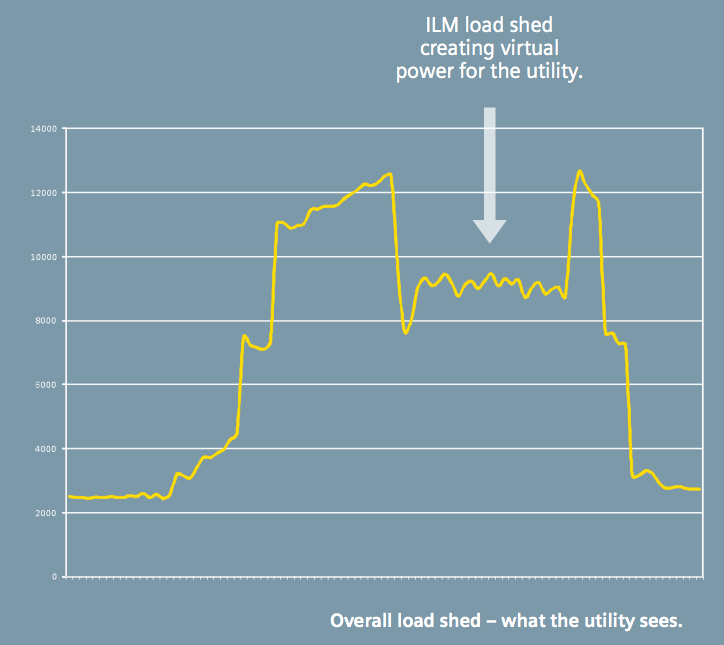 Five large commercial buildings (100,000 square feet or greater) in the Northwest were selected by researchers from Berkeley Labs to participate in an automated demand response program. The building operators used a number of energy-saving strategies, including pre-heating or -cooling before peak energy periods, cycling off heating/cooling units, and reducing lighting levels.
Over the four winter test periods, buildings averaged a peak demand reduction of 14%, a combined 767 kilowatts. Over four summer test periods, buildings averaged a peak demand reduction of 19%, an average of 338 kilowatts. Electric load reduction was possible even with gas heating systems because of the fans used to distribute heat.
During a Texas grid emergency, 100 retail stores using Siemens automated demand response tools were able to reduce energy use by 21% over 3.5 hours without significantly disrupting customers. The graphic to the left illustrates how the utility sees this demand response.
Peak Reduction from Homes
When it comes to managing residential energy consumption, utilities have used radio-controlled devices for more than two decades, but are just beginning to take advantage of Internet-connected devices or smart appliances.
One historic example comes from Great River Energy, an aggregation of cooperative utilities in Minnesota, which remotely controls over 100,000 water heaters, enough to store more than 1 gigawatt-hour of electricity. That's enough electricity to power 37,000 homes for an entire day. Xcel Energy's Savers Switch program, mentioned in the introduction, aggregates air conditioners in 400,000 homes and businesses to control 300 megawatts of energy demand.
Some utilities are pushing the envelope with new technology.
Oklahoma Gas & Electric achieved energy use reductions of 2 kilowatts per home in the first year of its smart meter and smart thermostat program. The utility allowed 40,000 volunteer customers to switch to electric rate plans where the price varied based on the demands on the grid. Customers received smart meters and smart thermostats to shift their consumption accordingly. The 70 megawatts of peak power reduction was 50% to 100% more than the utility anticipated. In addition to cost savings for more than 90% of participating customers, the utility's costs of $300 to $400 per home were far less than the cost of adding new peak-time power plant generation to the electricity system.
By its second year, the utility increased residential participation to over 100,000 households with average load reduction of 1.4 kilowatts, and by year four, 92% of participating customers saved an average of $140 per summer. The 1.4 kilowatt average load reduction is twice that achieved by Xcel's Saver's Switch program.
Oklahoma Gas & Electric's smart meter network was funded in part by a grant from the U.S. Department of Energy, although Arizona utilities have achieved reliable, if less substantial, results (0.2 kilowatts of peak reduction) with smart thermostats alone. Another 1,000-customer pilot by Energate achieved approximately 1 kilowatt of demand reduction per customer with a Canadian electric utility, a program now slated for expansion.
For timely updates, follow John Farrell or Karlee Weinmann on Twitter or get the Energy Democracy weekly update.
---
Have a tip for CleanTechnica? Want to advertise? Want to suggest a guest for our CleanTech Talk podcast? Contact us here.
---
CleanTechnica Holiday Wish Book
---
Our Latest EVObsession Video
---
I don't like paywalls. You don't like paywalls. Who likes paywalls? Here at CleanTechnica, we implemented a limited paywall for a while, but it always felt wrong — and it was always tough to decide what we should put behind there. In theory, your most exclusive and best content goes behind a paywall. But then fewer people read it!! So, we've decided to completely nix paywalls here at CleanTechnica. But...
Like other media companies, we need reader support! If you support us, please chip in a bit monthly to help our team write, edit, and publish 15 cleantech stories a day!
Thank you!
---
Advertisement
---
CleanTechnica uses affiliate links. See our policy here.
---