Welcome to the third episode of the Building Local Power podcast. Full transcript of the episode available here.
In this episode, Chris Mitchell, the director of our Community Broadband Networks initiative, interviews John Farrell, the director of our Energy Democracy initiative about the concept of energy democracy and about his latest report, Is Bigger Best in Renewable Energy? John specifically outlines some of the key concepts that make up the principles of energy democracy and how locally-owned renewable energy continues to shape our electric grid in new and exciting ways.
"We have traditionally had these large companies produce energy for us and our role is that we are simply customers," says Farrell, "What's really been happening in recent years is that we're seeing a transition in the rules of the system…and that citizens want a bigger say over the [electric] system and their energy future."
Podcast (Building Local Power Episode #3): Play in new window | Download
Subscribe: iTunes | Android | RSS
For more information on John's work, follow John Farrell on Twitter or get the Energy Democracy weekly update and read his latest report: Is Bigger Best in Renewable Energy? and see more fantastic charts like the one below.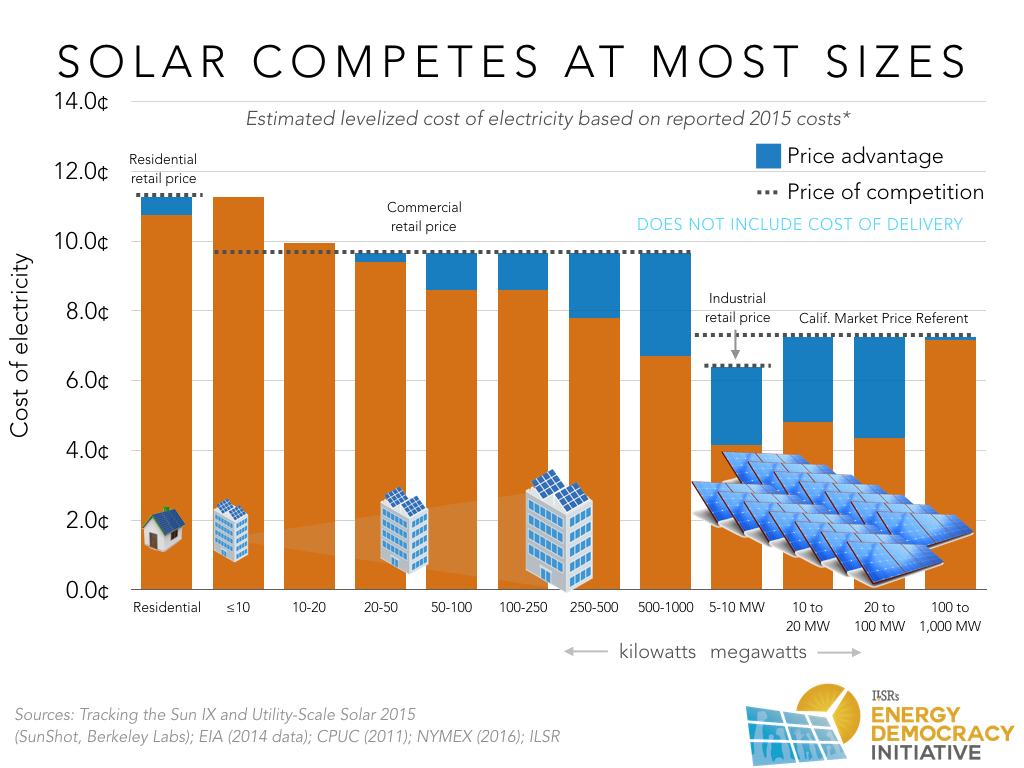 …
Audio Credit: Funk Interlude by Dysfunction_AL Ft: Fourstones – Scomber (Bonus Track). Copyright 2016 Licensed under a Creative Commons Attribution Noncommercial (3.0) license.
This article originally posted at ilsr.org. For timely updates, follow John Farrell or Karlee Weinmann on Twitter or get the Energy Democracy weekly update.
---
Sign up for daily news updates from CleanTechnica on email. Or follow us on Google News!
---
Have a tip for CleanTechnica, want to advertise, or want to suggest a guest for our CleanTech Talk podcast? Contact us here.
---
Former Tesla Battery Expert Leading Lyten Into New Lithium-Sulfur Battery Era — Podcast:
---
---
I don't like paywalls. You don't like paywalls. Who likes paywalls? Here at CleanTechnica, we implemented a limited paywall for a while, but it always felt wrong — and it was always tough to decide what we should put behind there. In theory, your most exclusive and best content goes behind a paywall. But then fewer people read it! We just don't like paywalls, and so we've decided to ditch ours.
Unfortunately, the media business is still a tough, cut-throat business with tiny margins. It's a never-ending Olympic challenge to stay above water or even perhaps — gasp — grow. So ...