Originally published at ilsr.org.
"We just need to become the Ben and Jerry's of the utility world!"
So said Mary Powell (pictured right), CEO and president of Green Mountain Power, as she announced in 2014 that her electric utility had just earned B Corp certification, making it one of more than 1,700 companies in the world committed to rigorous standards for sustainability, accountability and transparency.
Nonprofit B Lab administers the B Corp designation, which has drawn companies spanning 50 countries and a range of industries to expand their commitments beyond traditional shareholder returns — though Green Mountain remains the lone utility in the bunch.
The movement toward corporate social consciousness has led to legislation in 31 states that allows businesses to classify themselves as "benefit corporations," a structure whose priorities align with the B Corp philosophy.
For an electric utility, that means moving from just selling energy, toward "energy as a service." We've written about them before. Back in January, Powell talked with John Farrell about what it means to make energy into a service, and how a utility can transform itself into a societal good.
Podcast (localenergyrules): Play in new window | Download
Subscribe: iTunes | Android | RSS
Just B-Cause
Green Mountain Power does some cool things. They once helped expand net metering in the state. They retrofit homes with solar and energy efficiency products through on-bill financing, saving one household more than $500 a year on their energy bill. They built one of the nation's first all-solar microgrids. They're offering energy storage to customers. They've mapped out their distribution circuits (shown below) to help solar developers see where's there's room to grow. Even while adding more renewable energy to their fuel mix, they've lowered their electric rates three times in the past four years. The list could go on.
It begs the question: why aren't all electric utilities designated as benefit corporations or B Corps?
To Powell, it's a no-brainer. "It's very very intuitive that any business would do that," she says, "but certainly that a utility would." Because electric utilities provide essential services, they must realize that they serve multiple stakeholders in society. The community. The environment. And the customer, first and foremost.
Though the strategy picked up momentum when Powell took the reins in 2008, it traces through Green Mountain's history. The utility was able to nail down B Corp certification without changing much about how it operates.
Separate from keepings rates low for its customers, Green Mountain shapes its business in part around another goal — delivering healthy and stable returns for Gaz Metro, the Canadian energy company that bought it in 2006. Green Mountain net income hasn't dropped since it became a B Corp, showing environmental and social responsibility don't necessarily cut into cash flows.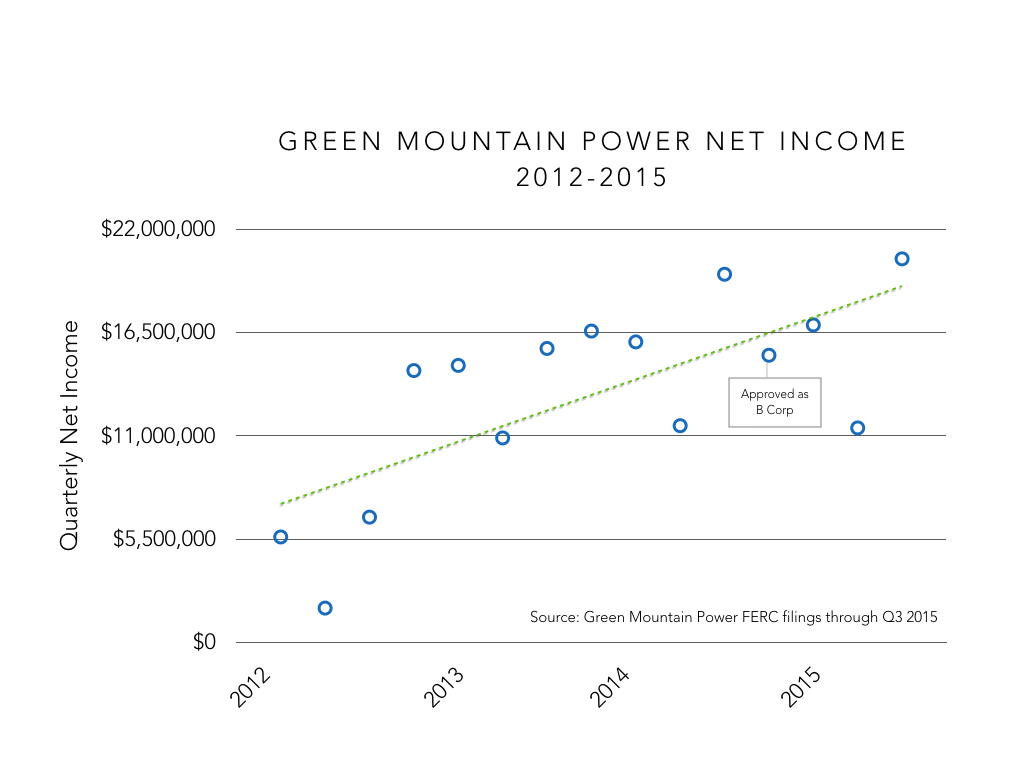 Green Mountain Power leans into what are usually perceived as threats to the utility business model. The utility, a regulated monopoly, believes it has a foot up over more complex, deregulated states. The utility can easily find points of commonality with the state and communities. It can play in the world of centralized generation while moving toward distributed, renewable, flexible energy. It can innovate and encourage others to.
"The goal is to create a new value proposition," Powell says.
Culture Shift
The electric utility industry has built large power plants and long power lines for years. Things are done like they've always been done — slowly, talking to a number of people, moving through the motions of regulation. "Like many industries, it's a visage of decades and decades of a certain approach," says Powell.
But Green Mountain Power, with a gift of monopoly control, sought to become the "un-utility," says Powell, "really become an organization that was fast, fun, and effective." It was a culture shift that enabled it all. Powell works in the same "colorful Costco" of an office as everyone else. People can come and go as they please. Everyone understands that the customer is at the core of the business model.
"One of the many lines I like is that culture eats strategy for breakfast every day," says Powell.
For more on Green Mountain Power and utility B Corporations, see this ILSR post from October 2015, asking whether there should be a Plan B for every monopoly utility.
This is the 38th edition of Local Energy Rules, an ILSR podcast with Director of Democratic Energy John Farrell that shares powerful stories of successful local renewable energy and exposes the policy and practical barriers to its expansion. Other than his immediate family, the audience is primarily researchers, grassroots organizers, and grasstops policy wonks who want vivid examples of how local renewable energy can power local economies.
Local Energy Rules is published intermittently on ilsr.org, but you can Click to subscribe to the podcast: iTunes or RSS/XML.
For timely updates, follow John Farrell on Twitter or get the Energy Democracy weekly update.
Photo Credit: Pixabay via CCO/Public Domain License
---