Sign up for daily news updates from CleanTechnica on email. Or follow us on Google News!
---
Originally published on Bikocity.
Imagine being able to ride all the way from Maine to Florida on a trail system that links major cities on the east coast of the US, with large parts of the trail being traffic-free greenways. That would certainly be an improvement over the current hodge-podge of trails, roads, and pathways that currently exist, and could empower much more non-motorized travel, whether it's on bike, skates, foot, wheelchairs, or eventually horseback.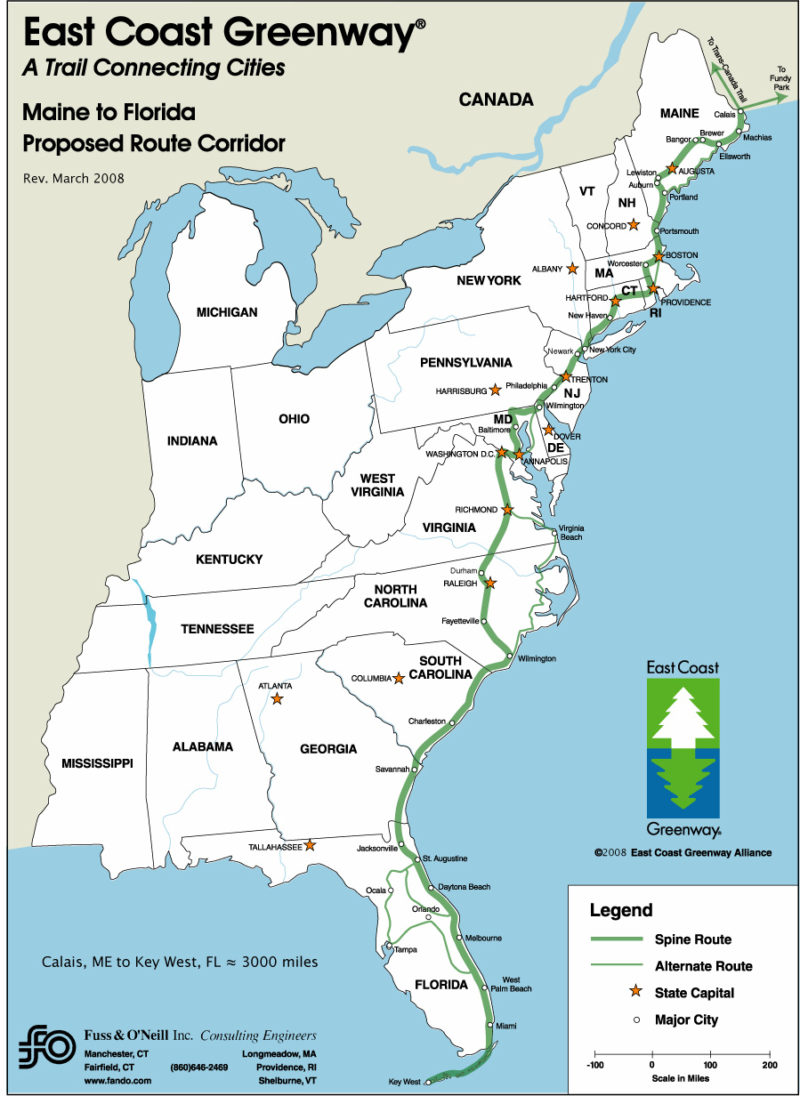 The good news is that the effort to create the East Coast Greenway (ECG) is already underway, with some 850 miles of paths already connected, and the organization that is behind the initiative is actively working to join more trails and greenways in order to complete the 2,900 mile "spine route" and the 2,000 miles of complementary routes that aim to link together the key cities, towns, and areas of natural beauty along the way.
The bad news is that it might take quite some time to fully realize the entire East Coast Greenway, as only about 30% of the spine route is completed, with 18% of the route currently under development, and about half of the route is either defined but not developed (~27%) or not yet defined and in need of further study (~27%). It is hoped that an additional 200 miles will be completed by 2020.
"Our vision is for a route with a trail surface that is continuous, firm, and mostly paved, with areas of packed stone dust. All of it will be suitable for walkers, wheelchairs, and road bicycles. In the future, a continuous route serving equestrians and in-line skaters is envisioned, as well. Some sections of the ECG already accommodate those users."
According to Dennis Markatos-Soriano, the executive director of East Coast Greenway Alliance (ECGA), the organization working since 1991 to connect the various routes, "It's not a question of when the Greenway will get done, it's a matter of how fast." The Alliance's annual budget has grown to almost a million dollars, but the money isn't necessarily the limiting factor, as building a network of connected greenways over thousands of miles is a complex task, and one which calls for a lot of support and collaboration with local governments and planning entities, all of which may not interact with each other.
Here's a look at the highlights of the ECGA's efforts last year:
The ECGA doesn't directly build or fund the sections of trails and greenways, but the nonprofit instead provides "strategic assistance" to the groups and municipal bodies that actually build the trails, as well as posting signage, making maps and guides to the Greenway, and officially designates the trails as part of the ECG system. In order to qualify to become part of the ECG, trails must meet certain standards, such as being built with materials that will support a touring bike, and having wide enough lanes so that passing can be done safely.
Here's a quick video on the project from The Guardian:
If you'd like to help boost this initiative, you can join the ECGA, donate to its efforts, or even apply for a job there (it is currently hiring a communications manager).
Reprinted with permission.
---
Have a tip for CleanTechnica? Want to advertise? Want to suggest a guest for our CleanTech Talk podcast? Contact us here.
---
EV Obsession Daily!
---
I don't like paywalls. You don't like paywalls. Who likes paywalls? Here at CleanTechnica, we implemented a limited paywall for a while, but it always felt wrong — and it was always tough to decide what we should put behind there. In theory, your most exclusive and best content goes behind a paywall. But then fewer people read it!! So, we've decided to completely nix paywalls here at CleanTechnica. But...
Like other media companies, we need reader support! If you support us, please chip in a bit monthly to help our team write, edit, and publish 15 cleantech stories a day!
Thank you!
---
Tesla Sales in 2023, 2024, and 2030
---
Advertisement
---
CleanTechnica uses affiliate links. See our policy here.