Originally published on Sustainnovate.
By Henry Lindon
A new report from Media Matters has revealed that US broadcast news coverage of climate change fell dramatically in 2015 (as compared to 2014), despite the fact that 2015 was a very important (and strange) year as far as climate-change-induced temperature and weather changes were concerned.
February 2015, June 2015, October 2015, November 2015, and December 2015 all saw new monthly temperature records set. And, of course, 2015 was by far the hottest year on record.
In addition — the pope released a climate change encyclical, investigative journalists revealed that Exxon executives have been aware of the dangers of anthropogenic climate change for decades (while funding disinformation campaigns), the Keystone XL pipeline application was rejected, there was a global summit on the matter (COP21), and the Clean Power Plan went into effect, amongst other notable events. Despite all of this, climate change coverage in 2015 dropped notably.
As one can see in the graph above, much of the decline was due to a drop in coverage at ABC. Interestingly, Fox News actually nearly doubled its coverage (most was critical of carbon tax efforts, emission reductions, etc, of course). ABC actually only spend 13 minutes in 2015 on climate change.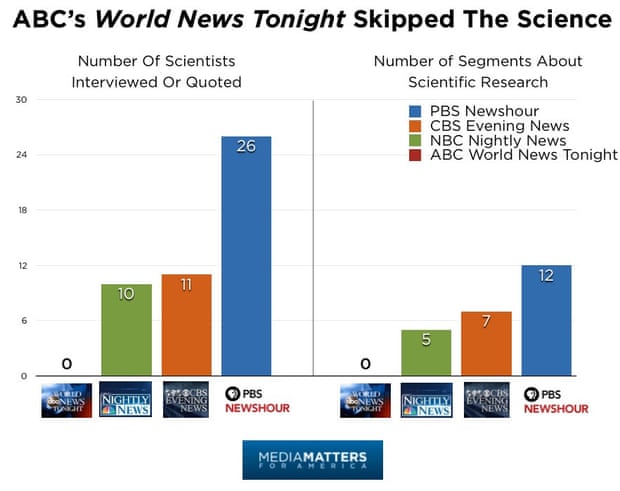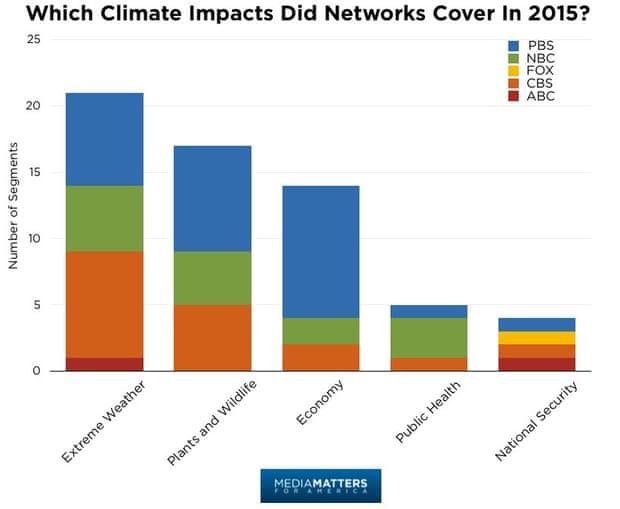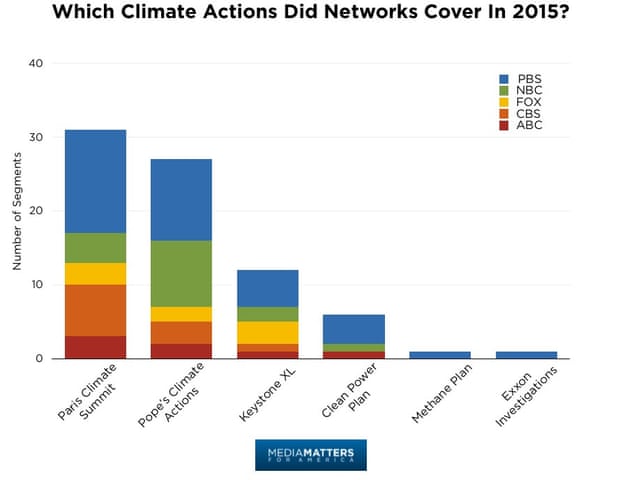 Skeptical Science provides more:
The Sunday shows (ABC's This Week, CBS' Face the Nation, NBC's Meet the Press, and Fox Broadcasting Company's Fox News Sunday) and the network nightly news programs (ABC's World News Tonight, CBS Evening News, and NBC Nightly News) each aired a combined 73 minutes of climate coverage in 2015, down a total of 8 minutes (a 5% decline) from 2014. The Public Broadcasting System (PBS) News Hour program aired more segments addressing climate change (58) than the other nightly news shows combined (48).
In particular, the award-winning Inside Climate News Exxon investigation and the launch of the Clean Power Plan were largely overlooked by the news networks. When it came to interviewing or quoting scientists and doing segments about climate science research, PBS News Hour again rose above its peers, while ABC's World News Tonight flunked science class.
Climate scientists were entirely absent from the Sunday news shows, with one exception. On CBS' Face the Nation in December, anchor John Dickerson interviewed Dr Marshall Shepherd, meteorologist and director of University of Georgia's Atmospheric Sciences Program, to discuss the importance of the UN summit's goal of limiting global warming to two degrees Celsius. This was a sharp decline from 2014, in which climate scientists were interviewed or quoted on seven Sunday news shows.
Anthropogenic climate change is already causing significant impacts to many of the most unstable regions of the world — droughts in the Middle East and the Amazon, increasing agricultural problems in bread-basket regions, growing levels of wild fires, etc. As the years continue, these problems will continuing growing in intensity, and the capacity to effectively deal with them will become more and more difficult as physical and psychological resources are over-stretched. You'd think then that it'd be a subject worth covering while there's still some possibility of effective action, wouldn't you?
---
Sign up for daily news updates from CleanTechnica on email. Or follow us on Google News!
---
Have a tip for CleanTechnica, want to advertise, or want to suggest a guest for our CleanTech Talk podcast? Contact us here.
---
Former Tesla Battery Expert Leading Lyten Into New Lithium-Sulfur Battery Era — Podcast:
---
---
I don't like paywalls. You don't like paywalls. Who likes paywalls? Here at CleanTechnica, we implemented a limited paywall for a while, but it always felt wrong — and it was always tough to decide what we should put behind there. In theory, your most exclusive and best content goes behind a paywall. But then fewer people read it! We just don't like paywalls, and so we've decided to ditch ours.
Unfortunately, the media business is still a tough, cut-throat business with tiny margins. It's a never-ending Olympic challenge to stay above water or even perhaps — gasp — grow. So ...