Originally published on SolarWakeup.
By Yann Brandt
Solar may be a small portion of energy production globally but the importance in geo-politics continues to grow. All energy usage may be local, when a homeowner plugs in their cell phone charge into the wall but when it comes to energy production, it is anything but local. Looking at the recent trouble in Eastern Europe between the Ukraine and Russia, it is very apparent that energy plays a central role in the conflict.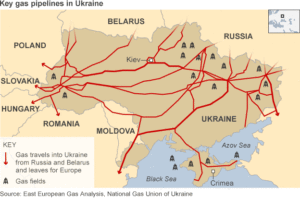 Just take a look at the map of Ukraine showing the vast Russian pipelines going across its borders to shipping ports and the broader European markets. The EIA says that 16% of natural gas consumed in Europe flows through Ukraine. Solar plays a central role in this conflict but an even larger role in global diplomacy.
What does solar have to do with this?
As United States and European leaders look to create sanctions against Russia for annexing Crimea and entering Eastern Ukraine, there is a going concern that Russian natural gas providers could restrict or even stop natural gas exports to the sanctioning Countries. As EU Countries and US States focus on lowering emissions and eliminating nuclear energy, the global dependence on natural gas has increased.
While on a political level this dependence has political ramifications, solar creates the backup plan. It reduces, especially at peak demand, the need for natural gas and is a hedge for electric grids that have a potential shortfall of natural gas fuel supply. For example, in the 1st quarter of 2014, solar met 4.2% of the German electric demand with over 36GW of total solar installed in a Country smaller than California.
Another divergence between solar and natural gas
With another divergence from natural gas, solar doesn't have a physical pipeline. A solar panel will produce electricity anywhere without the need for infrastructure that comes with significant political and economic risk. On the opposite spectrum, solar has become a political asset for Governments as a built-in hedge against natural gas price volatility.
Thomas Friedman from the New York Times went even further with Go Ahead, Vladimir, Make My Day, his op-ed outlining the clean energy benefits from natural gas related diplomacy.
The center of solar diplomacy may sit in Qatar
Qatar is the richest Country in the world based on GDP per capita. Why? It has almost 3 times the natural gas reserves as the United States. This natural gas and oil oasis has the land mass equivalent to Connecticut may actually be the center of global solar diplomacy.
As Western European countries look for backup plans to Russian natural gas, the production in Qatar looks very appealing. But this backup plan may come at a diplomatic cost that everyone has heard of.
The SolarWorld connection
The lead plaintiff in global solar tariff complaints is SolarWorld, the solar manufacturer listed on the German stock exchange. While listed in Germany, Solarworld is actually owned 30% by Qatar Solar, which is majority owned by the Qatari Foundation. In addition, Qatar Solar is building a polysilicon production facility. Once operational, the Qatar poly factory will supply all of the SolarWorld needs according to SolarWorld officials.
The success of the Qatar poly factory is most likely based on the demand of SolarWorld across the globe and therefore the tariffs/minimum prices set by the trade complaints against Chinese manufactured products in the EU and US.
Closing the loop from Ukraine and Qatar to Berlin and Washington D.C.
Natural gas continues to play a central role in solar from price comparisons to energy dependency. For EU Countries, reliance on foreign natural gas has been mitigated with enormous investments in local solar and wind generation. The self-production hedge has allowed Western Europe to be a stronger political power with less reliance on others for fuel supply. Less reliance does not mean 'no reliance' and that is why Qatar remains an important part of global natural gas politics.
It is the investment by Qatar which saved SolarWorld the first time and helped them get out of bankruptcy earlier this year. The role that Qatar plays in the solar trade complaints is yet to be determined but saying SolarWorld is a German owned US solar manufacturer is an oversimplification of a very complicated global political situation where solar is a central component.
---
Sign up for daily news updates from CleanTechnica on email. Or follow us on Google News!
---
Have a tip for CleanTechnica, want to advertise, or want to suggest a guest for our CleanTech Talk podcast? Contact us here.
---
Former Tesla Battery Expert Leading Lyten Into New Lithium-Sulfur Battery Era — Podcast:
---
---
I don't like paywalls. You don't like paywalls. Who likes paywalls? Here at CleanTechnica, we implemented a limited paywall for a while, but it always felt wrong — and it was always tough to decide what we should put behind there. In theory, your most exclusive and best content goes behind a paywall. But then fewer people read it! We just don't like paywalls, and so we've decided to ditch ours.
Unfortunately, the media business is still a tough, cut-throat business with tiny margins. It's a never-ending Olympic challenge to stay above water or even perhaps — gasp — grow. So ...