Halogen, CFLs, LEDs, Watts, Lumens—what's the difference? What's best? We've got you covered! Lighting a typical Minnesota home accounts for about 10 percent of the energy needed to power one's home. One of the best ways to reduce your electricity bill is to replace traditional incandescent light bulbs with ENERGY STAR labeled compact fluorescent light bulbs (CFLs) or light emitting diode bulbs (LEDs).
How can I save money on my lighting bill?
| | |
| --- | --- |
| | Halogen bulbs are one lighting option. They last about three times longer and use 10 percent less energy than a standard incandescent bulb with the same light output. But they rank well below CFLs and LEDs in efficiency and longevity. |
| | CFLs use about one-third of the energy and last up to 10 times longer than an incandescent bulb with the same light output. Also, CFLs have overcome many of the problems associated with their initial production in the 1990s. Newer CFLs have electronic ballasts which eliminate most of the flickering and slow starting of earlier models, and ENERGY STAR standards have improved reliability and expected lifetimes considerably. |
| | LEDs are the longest lasting bulbs on the market, lasting about 10 years and about three times longer than CFLs. They are roughly equivalent to CFLs in efficiency. Their longevity makes them a good choice for locations where bulb change-outs are either difficult or costly. Manufacturers are providing a growing selection of LEDs to meet specific lighting needs and compete with CFLs. |
To view a comparison of different light bulb choices based on cost, efficiency and environmental concerns, and for more information on a range of lighting facts, check out Appliances, Lighting, Electronics, an energy guide published by the Minnesota Department of Commerce, Division of Energy Resources.

What are watts? What one should I use?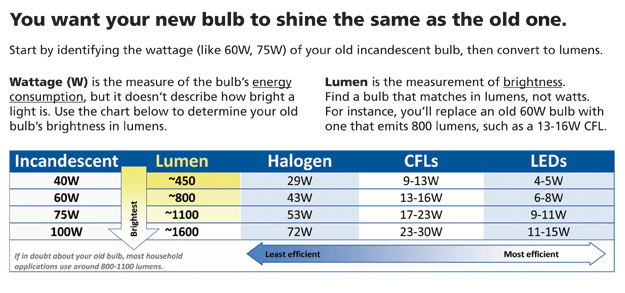 White or yellow? How do I know?

Check out the complete Right Light Guide
Click here to download the entire Right Light Guide from CERTs >>
Appreciate CleanTechnica's originality and cleantech news coverage? Consider becoming a CleanTechnica Member, Supporter, Technician, or Ambassador — or a patron on Patreon.
---
Don't want to miss a cleantech story? Sign up for daily news updates from CleanTechnica on email. Or follow us on Google News!
---
Have a tip for CleanTechnica, want to advertise, or want to suggest a guest for our CleanTech Talk podcast? Contact us here.
---
Advertisement
---