Is There Phantom Power Usage In Your Home?
Sign up for daily news updates from CleanTechnica on email. Or follow us on Google News!
---
Dr. David Schmidt of the University of Minnesota's College of Food, Agricultural and Natural Resource Sciences is practicing what he preaches. The professor of the popular Renewable Energy and the Environment course has conducted his own study on phantom power in the home.
Phantom power (also referred to as standby power, vampire draw, or leaking electricity) is the act of electrical appliances consuming power while switched off or in standby mode. Schmidt ran an in-home experiment with a Kilo-Watt meter and tested items such as laptops and phone chargers.
Schmidt began the experiment by plugging only the power cords (chargers) for 4 laptops, 2 cell phones, 2 iPads, a Nook, a Nexus, and an iPod all onto the same power strip. (See above right photo). Even with all of these chargers plugged in, the meter read 0 Watts.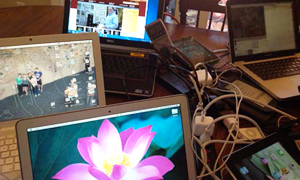 Next, Schmidt connected all the devices to their chargers, made sure all devices were on, fully awake, and charging. At this time in the experiment the Kilo-Watt meter read above 195 Watts.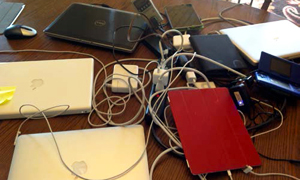 Continuing the experiment, Schmidt then put all the devices into their sleep mode, but maintained that they were all still charging. This reading level was roughly 150 Watts.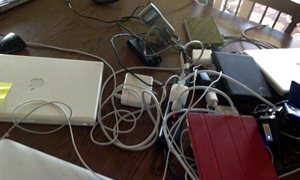 Lastly, Schmidt took a reading of the devices when they were all connected to their chargers, in sleep mode, and fully charged. This reading was 8 Watts.
Schmidt concluded that:
Most of the chargers alone likely used a slight bit of power; however, all combined it was still less than 1 Watt—the impact of leaving chargers plugged in is negligible.
Having devices plugged in after they have been fully charged will result in phantom power use and should be avoided.
It's hands-on projects like the one Schmidt conducted himself that he encourages students to undertake. The online-only course (Renewable Energy and the Environment) boasted an enrollment of 600 last spring and teaches students about topics such as life-cycle analysis, climate change, forms of clean energy, and energy policy. One of the course requirements includes a "Do Something and Report It" assignment. For this assignment students must do a small project based off of course learning and then report it back in the form of a fact sheet, news article, PowerPoint presentation, or video. Previous projects have included videos showing students making solar iPod chargers, making biodiesel, auditing their homes' energy use, or melting cheese on a tortilla using a homemade solar oven.
After completing the projects, Schmidt requires the students to watch their peers' videos and comment on the presentations. The collective viewing allows the students to see different areas of action to which they can personally relate. Schmidt emphasizes that the class is not just for school, but for their life's well being.
View the original post on Clean Energy Resource Teams' website.
---
Have a tip for CleanTechnica? Want to advertise? Want to suggest a guest for our CleanTech Talk podcast? Contact us here.
---
CleanTechnica Holiday Wish Book
---
Our Latest EVObsession Video
---
I don't like paywalls. You don't like paywalls. Who likes paywalls? Here at CleanTechnica, we implemented a limited paywall for a while, but it always felt wrong — and it was always tough to decide what we should put behind there. In theory, your most exclusive and best content goes behind a paywall. But then fewer people read it!! So, we've decided to completely nix paywalls here at CleanTechnica. But...
Like other media companies, we need reader support! If you support us, please chip in a bit monthly to help our team write, edit, and publish 15 cleantech stories a day!
Thank you!
---
Advertisement
---
CleanTechnica uses affiliate links. See our policy here.
---