Originally published on Clean Energy Resource Teams.
The Minnesota Department of Commerce just announced their 2017 Made in Minnesota Solar PV Incentive Program lottery results. This year the program will support 679 new projects and 10.23 MW of capacity—that's a lot! Minnesota Power's SolarSense Program also expanded this year.
A random selection of applicants for the 2017 Made in Minnesota Solar PV Production-Based Incentive Program was completed on March 22, and 679 new residential and commercial solar electric (PV) systems were chosen to receive funding in the fourth year of the 10-year program. The random selection process was conducted by a third-party vendor.
Applicants to the 2017 PV incentive program will be notified by the Minnesota Department of Commerce through email; a posting by Made in Minnesota application number is available on the Made in Minnesota Program Updates & News webpage. The numbers highlighted in red have been selected for funding, those in black are wait listed. The list is displayed by utility and by residential and commercial applications.
The 679 new projects in 2017 is a 73% increase over the 393 projects funded in 2016. The combined capacity of the planned systems represents about 10.23 megawatts (MW) of new small scale solar electric energy for homes and businesses in Minnesota, a nearly 80% (or 4.53 MW) increase from the 2016 total of 5.7 MW.
Incentives for solar PV are performance-based, established by a system's energy production, and paid over 10 years. Owners of an approved and installed PV system will receive payments annually by July 1 based on the kWh output of the system in the previous calendar year.
Funding for the new projects is awarded based on the amount each participating utility contributes to the program. Projects by utility and total kWs of capacity are listed below: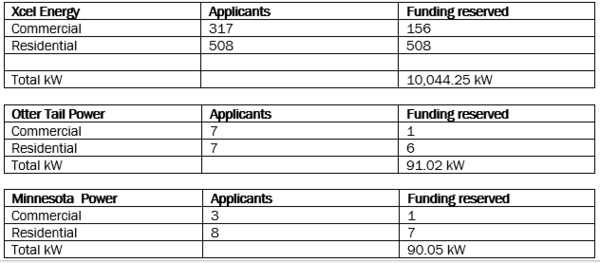 Total projects funded = 679
Total kW funded = 10,225.25
Incentives for Solar in Minnesota
Reprinted with permission.
---
Sign up for daily news updates from CleanTechnica on email. Or follow us on Google News!
---
Have a tip for CleanTechnica, want to advertise, or want to suggest a guest for our CleanTech Talk podcast? Contact us here.
---
Former Tesla Battery Expert Leading Lyten Into New Lithium-Sulfur Battery Era — Podcast:
---
---
I don't like paywalls. You don't like paywalls. Who likes paywalls? Here at CleanTechnica, we implemented a limited paywall for a while, but it always felt wrong — and it was always tough to decide what we should put behind there. In theory, your most exclusive and best content goes behind a paywall. But then fewer people read it! We just don't like paywalls, and so we've decided to ditch ours.
Unfortunately, the media business is still a tough, cut-throat business with tiny margins. It's a never-ending Olympic challenge to stay above water or even perhaps — gasp — grow. So ...