Originally published on ilsr.org.
Keeping Energy Dollars Local
C
hattanooga, TN, is adding over $1 billion to its local economy in the next decade by implementing one of the most advanced smart grids and delivering the fastest internet service in the country with its municipal utility.
Sonoma County, CA, has created nearly 800 local jobs retrofitting over 2,000 properties for energy savings with city-based financing.
Babylon, NY, has re-purposed a solid waste fund to finance retrofits for 2% of the city's homes, saving residents an average of $1,300 a year on their energy bills at minimal cost to the city.
Below is part one of our City Power Play Report, a report released in October 2013 about the types of policy solutions cities can enact to increase their ownership of renewable energy. Be sure to come back and read parts 2 and 3, published in the next week.
Eight Powerful, Practical Policies
This report details 8 practical energy policies cities can and have used to their economic advantage:
Municipal utilities
Community choice aggregation
Building energy codes
Building energy use disclosure
Local tax authority
Solar mandates
Permitting
Local energy financing
Case studies of each policy vividly illustrate their impact with specific examples, right down to the text of the relevant ordinances.
The policies aren't tied to a political ideology, but a practical and local one. Cities have identified where they have untapped resources and deployed them to generate jobs and keep more of their energy dollars in the economy.
Every City Could Do Something
Some cities are more limited than others. While the federal constitution typically reserves all powers not expressly given to the federal government to the states, states typically do not similarly reserve powers for cities. In fact, an opinion issued by Justice Dillon of the Iowa Supreme Court in the mid-1800s (Clark v. City of Des Moines) set a precedent for local authority that extends to this day in most states: many cities have only those powers expressly granted them by the state or that are indispensable in being a city. Issues like energy codes or property-assessed clean energy (PACE) programs don't fit under "Dillon's Rule."
On the other hand, many states have instituted a form of "home rule," which grants (at least some) powers of self-governance to cities. The following map illustrates the complex landscape of local authority.
No city, no matter how committed to boosting its economy, could adopt all 8 policies (heck, the first two are incompatible). Forming a municipal utility means a tough fight with the incumbent utility. Few states allow community choice aggregation.
But nearly every city has a local budget and borrowing power, can issue permits for buildings, and can set local policy. And likely no city has explored the full potential of its power to boost the local economy with local energy policies. This report shows how dozens have done so, in the hopes it inspires many more to act.
Introduction
Municipalities across the country can't afford to wait for the federal or state government to rescue their economies or their environment. The national "Great Recession" has officially passed, but (as the chart below shows) joblessness lingers even as government's attention turns to other matters. Similarly, national attention to climate policy has waned, despite the continued urgency.
Cities don't have to wait to juice their economy, and they can do it with clean energy policies that simultaneously attack our most pressing economic and environmental problems.

This report lists 8 powerful policies and practices that cities have employed to reduce energy use, save money, and create local jobs, all without waiting for someone else to act. It provides short case studies of the policies in place, and links to the text of the local rule.
It is our hope that your community can use these models to take control of its energy future and keep more of its energy dollars in the local economy.
Municipal Utilities
Over 2,000 US communities, home to 1 in 7 Americans, get their electricity from city-owned utilities. These locally controlled, not-for-profit electric companies offer many benefits — from responsive local staff, to better reliability, to lower borrowing costs, to higher revenue for a city's general fund.
Not every municipal utility is a forward-thinking, clean energy champion any more than investor-owned or cooperatively owned electric utilities. But municipal utilities are uniquely subject to the will of their customers (who elect their superiors). A few communities have pioneered programs that show how a locally owned electric network can not only reliably and inexpensively deliver electricity, but can also successfully marry environmental and economic goals.
Many municipal utilities are exempt from state-level regulation, enabling them to serve their community as they see fit. They can choose their energy supply — the type and location. They can invest in smart grids or customer service. Ultimately, they can do whatever their boards, city councils, and voters wish. Boulder, CO, provides a perfect illustration, where a feasibility study of forming a municipal utility shows the city could reduce greenhouse gas emissions by 50% by getting 54% of its energy from renewable sources within 5 years, with no negative impact on rates or reliability.1
Most municipal utilities were established decades ago, when corporate utilities often refused to adequately serve their community. Some municipal utilities have arisen more recently (although fewer than 100 municipal utilities have been formed in the past 30 years).2 In many cases, cities only gained control of their energy future and utility after a major fight with the incumbent investor-owned utility.
Sacramento Municipal Utility District
The Sacramento Municipal Utility District (SMUD) serves 600,000 customers in and around the state capitol of California. SMUD has an ambitious goal of reducing greenhouse gas emissions by 90% by 2050.
SMUD has served the Sacramento area since 1946 and is run by a board of 7 publicly elected officials, who serve 4-year terms.
SMUD got its start with a struggle, a 23-year legal battle with incumbent corporate utility Pacific Gas & Electric for the right to serve Sacramento customers.3
SMUD was an early leader on solar technology and renewable energy, constructing the first utility-scale solar farm (initially 1 megawatt (MW), now expanded to 3.2 MW) in 1984.4 In 1993, it launched the Solar Pioneer program that allowed SMUD customers to pay a modest premium to get solar installed on their roof. Combined with solar on carports and other locations, it gave the utility valuable experience with managing over 600 distributed solar projects with a total capacity of over 7 MW by the year 2000 (about 10% of all solar PV installed in the U.S. at the time).5
Buying in bulk helped reduce solar installation costs significantly. By 1999, residential rooftop installations sponsored by SMUD cost just $3.75 per Watt (AC),6 less than half the average cost for similarly sized projects in the US and equal to the average cost nationwide at the end of 2012!7
SMUD's first wind farm was built nearby in 1994 and has since been expanded to over 100 MW. SMUD currently purchases electricity from 230 megawatts (MW) of wind power and 100 MW of solar, almost all within its own system (equivalent to about 10% of its peak energy demand), and 28% of its energy sales are from renewable sources. The utility is on target to reach the state standard of 33% renewable by 2020.8
Thanks to citizen pressure, SMUD has also invested heavily in energy efficiency. The efforts were sparked by the closure of the Rancho Seco nuclear power plant in 1989 after a public referendum, the only such closure in the history of nuclear energy (due in large part to its pitiful 38% lifetime efficiency rating). The municipally owned utility responded with a "massive" energy efficiency program including planting a half million trees to reduce air conditioning demand in Sacramento. The Sacramento Bee summarized, "SMUD aggressively promoted energy-saving programs, including fluorescent bulbs and light- colored roofing, which were novel concepts at the time."9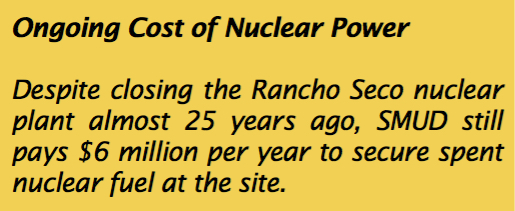 In addition to energy efficiency, SMUD's investment in hydroelectric power and other energy sources after the closure of the nuclear plant have helped it offer an average retail electricity rate is 25% lower than the state average for investor-owned utilities.10
SMUD also maintains a very reliable grid system, with the average customer losing power for less than an hour per year, significantly better than the national average.11 The utility is testing new technologies for system resilience and reliability, like microgrids, at their new headquarters building (also a zero net energy building).
In its energy program, SMUD stands out for its commitment to keeping energy dollars local. It was one of the first to offer a comprehensive, long-term contract to local solar producers that could deliver power to the utility. By 2012, the entire 100 MW program had been filled, with 66 MW producing electricity, costing the utility a low (at the time) 12¢ per kWh.12 They've also aligned their energy efficiency incentives with the city's energy financing program (Clean Energy Sacramento), helping to save their customers energy and create local jobs through building upgrades and retrofits.
The utility has also been at the center of transitioning to a 21st century grid. SMUD started adding electric vehicles to its fleet in 1990 and built nearly 150 public charging stations through 2003.13 They have a pilot pricing program, providing lower cost electricity for electric car charging at off-peak hours. They've also participated in several studies on using electric vehicles for energy storage and to increase the penetration of wind power.14,15
Austin Energy
Serving nearly a million residents in one of the largest cities in Texas, Austin has one of the most ambitious renewable energy goals and a strong history of energy savings.
The utility has served the city of Austin (and parts of two surrounding counties) since the beginning of the 20th Century. The utility is governed by the Austin city council.
Austin Energy has one of the most ambitious renewable energy standards of any utility or state, committed to 35% renewable energy (from within Texas) on its grid by 2020. This plan will reduce greenhouse gas emissions 20% below 2005 levels by 2020. In 2012, 15% of the utility's supply came from renewable resources.
With its strong local resource, and peak summer demand the Austin utility has focused on solar energy. Its net metering program (supported by robust rebates) has helped cultivate approximately 8 MW of in- city solar energy, mostly on (over 1,000) residential rooftops. The incentive programs continue to add 1 MW or more of solar each year. The utility also recently completed a 30 MW utility-scale solar installation about 18 miles east of town.16 Combined, the city's solar installations are a relatively small amount of the total electricity, representing just 1.4% of peak energy demand, but the city plans to have 200 MW of solar installed by 2020.
The utility has also had a strong focus on energy efficiency, starting in the early 1980s. Its rebates and low-interest loan programs reached more than 100,000 customers between 1982 and 2000, and its Green Building program has helped builders construct energy efficient homes (nearly 700 in 1999 alone, and 10,000 since 1991).17,18 The utility also supports the city's ambitious building energy code, that includes mandatory energy audits for all residential and commercial buildings older than 10 years. In partnership with a local credit union, the utility provides loans for energy improvements on residential properties.19
The city utility also requires homeowners interested in the solar rebate to make energy efficiency improvements first.
Austin Energy also operates the local version of the federal energy efficiency program Free Home Energy Work, that has served over 14,000 homes, and saved 19 MW of power.20 Its low-income weatherization programs funded by the federal stimulus have outperformed expectations, reaching nearly 1,900 homes, 77% more than expected. This and other energy efficiency programs have also reduced peak demand by 48 MW, or about 1.7% of peak, in 2012.21 Austin's annual combined energy savings averages around 0.8% of total energy savings, putting them in the top third of large utilities ranked in a 2011 report by Ceres.22
Like SMUD, Austin Energy has better-than- average reliability, with customers losing power an average of 60 minutes per year or less over the past five years.23
Austin has partnered with many private companies to test the 21st century utility model with its Pecan Street, Inc., project. The independent project has tested out advanced smart grid technology, distributed generation, solar power, electric vehicles, and other elements of a modern electric grid in specific geographic neighborhoods within the city of Austin.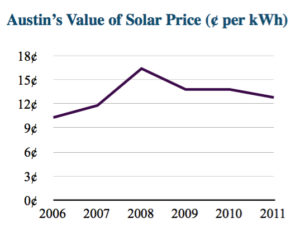 Austin has also supported the development of local solar resources, by pioneering a new concept: a "value of solar" production-based incentive. Currently set at 12.8¢ per kilowatt-hour, the incentive adds up various ways that local solar energy saves the utility money (including avoided energy costs, transmission of energy and losses, and other factors), and sets an appropriate payment level, adjusted annually, for solar energy producers.
Palo Alto Utilities
About an hour south of the Bay Area, the electric utility serving the wealthy town (per capita income is nearly double the state's) of Palo Alto has made itself into a clean energy leader. It has signed contracts to have a carbon-neutral electricity supply beginning in 2013, in part due to purchasing solar energy at historically low prices.
The Palo Alto electric utility has been serving the city (population 65,000) since 1896, and includes almost all local utility services (water, gas, electricity, wastewater) including a fiber optic network (for city use). The utility operates with relative independence from city council, with an appointed director.
The utility has two top-line commitments on renewable energy: to be 33% renewable by 2015, adopted in 2007,24 and to be 100% carbon-free. In 2007, the city received 10% of its energy from renewables, rising to 20% in 2010. By 2013, the city has signed power purchase contracts that will get it to 48% renewable by 2017, blowing past its goal.25 Along with previously contracted large hydro power (not counted as renewable according to state law), and the purchase of short-term renewable energy credits, the city will meet its carbon- free goal beginning this year, as well.
The commitment started a decade ago, with a 100% green energy option for customers, with a price premium of 1.5¢ per kWh. Over 1 in 5 customers participates, among the highest rates in the country, supporting solar installations around the state. The city council recently suspended the price premium due to the low cost of acquiring renewable energy and the commitment to deliver carbon neutral energy to all customers.26
More recently, the utility has committed to buying solar in bulk, signing 100 MW worth of solar contracts in the past year at an average and historically low price of 7¢ per kWh (much lower than the retail electricity price). The energy will come from utility- scale solar arrays in rural counties in Southern California.
Palo Alto utilities also runs a robust energy efficiency program. Its 10-year goal of 3.5% load reduction (adopted in 2007) and subsequent efforts are projected to keep electricity demand flat from 2010 through 2030.27,28
Palo Alto delivers electricity service with high reliability. The average customer is out of power for 50 minutes per year, only about half as much as a customer served by the region's investor-owned utility.29
The utility has also focused on the purchase of local solar power. Approximately 6.5 MW have been developed on residential and commercial properties with city-offered rebates. The city also recently launched a CLEAN Program to purchase local solar energy, offering 16.5¢ per kWh for solar from city rooftops. Although much higher than the cost of utility-scale solar, the local purchase price is based on the value of the energy to the city, including the 3¢ per kWh it offsets in transmission and capacity costs.30 The price is higher than for Austin, TX, in part because of a higher value for avoiding transmission costs and partly because higher land values in Palo Alto make it necessary to do more rooftop rather than less expensive ground-mounted commercial scale solar energy.
Chattanooga Electric Power Board
The Electric Power Board (EPB), the municipal electric utility serving Chattanooga, TN, has become a national model for using smart grid technology to improve electric service, offering world- class internet service, and saving the community money.
EPB was created by the state legislature in 1935, to deliver inexpensive power from the Tennessee Valley Authority (TVA). It serves the city of 170,000 and surrounding area.
Since EPB gets all of its energy from TVA, it has no authority over the amount of renewable energy on its electricity system. TVA is primarily a coal and nuclear power system (80%), with a significant part of the remainder of its power from large hydro dams. TVA has started procuring small amounts of solar and other renewable energy through standard, long-term contracts (like Palo Alto) but its plans will not significantly change its energy mix.
On energy efficiency, EPB has focused on its signature achievement – one of the most advanced smart grid in the country. Built on a fiber optic network that also delivers some of the most cost-effective and fast internet service in the country, EPB's smart grid story is worth telling.
Initially the municipally owned utility used fiber connections between substations to offer affordable and reliable telecommunications services to nearby businesses. But the foundation of their current success was a plan to build a citywide fiber optic network to serve their electric division (and then to see how it could also be used to offer other valuable community services).
Their smart grid plan, developed in 2007, envisioned a 10-year build out of a fiber optic network close to most buildings in the city. Smart meters would communicate wirelessly with the fiber network.
Although it was prepared to finance the upgrade itself, a $111 million federal grant allowed EPB to complete their smart grid investment in 2012, seven years ahead of schedule. The utility now has the most automated smart grid in the country. Advanced sensors on the distribution system give the utility thousands of data points every second to improve the quality of power. Smart switches, called IntelliRupters, are installed, on average, between every 150 buildings. These switches can automatically section off the grid during outages to minimize affected areas.
The investment is paying dividends. EPB estimates that in the 9 months ending February 2012, their smart grid investments saved customers an average of 30 minutes of outage time apiece – enough to cut the average U.S. utility's annual outage time by 33%.31 Not counting weather-related outages, their average outage time through August 2013 was 21% lower than for the same time the previous year.32
The following map helps illustrate the improvement based on a single outage event caused by a thunderstorm on July 5, 2012.
The smart grid automation saved the utility $1.4 million, in part by preventing over 300 truck runs that would normally have been ordered to confirm outage status. It also saved residential and commercial customers millions by avoiding power outages (estimated at $50 million per year),33 a benefit more commonly counted by a municipal utility than a privately owned one.
The smart grid also includes advanced electric meters, with data that can provide the utility with opportunities to significantly improve efficiency. "The utility may be able to shave 20 to 30MW off its peak electrical load because it knows exactly what the voltage is at the last house down the line of every distribution run."35
The savings to the community also come from investments as simple as new street lights. Like many other utilities, EPB is replacing older street lights with LED technology, reducing energy use by up to 50%. But the LEDs used in Chattanooga are "smart," allowing for remote control using the city's wireless internet network. In a report on Chattanooga's smart grid, Chris Mitchell notes that, "These lights can be a boon for public safety because police officers can increase light output as necessary on a granular basis. While responding to an incident in a park, first responders can flood the area with enough light to make midnight seem like midday. The lights can also be flashed in a pattern, directing motorists along a specific route."36 The smart controls increased energy savings from 50 to 82%, because the lights could be dimmed based on local conditions and needs. The light upgrade will pay for itself in 6 years and reduce maintenance costs, since LEDs need replacement much less frequently than the older lighting technology.
The fiber network makes excellent sense for the electric utility, but it also has enormous benefits for the city's residents and businesses. The network, which launched services (TV, phone, and internet) in late 2009 with one of the fastest internet packages in the country (100 Mbps symmetrical download and upload). After a year, Chattanooga's utility became the first service provider in the country to offer 1 Gbps service (equal to 1000 Mbps and about 50 times faster than a common home cable internet connection). Prices were comparable for EPB's service to its for-profit competitors, and service was always better.37 The economic value (over 10 years) of the city-provided service is estimated at close to $600 million, nearly twice the network's cost of $300 million.
EPB also excels in other ways, like customer service. They ranked #2 among large U.S. utilities for customer service, in no small part due to gestures like service credits for internet customers during an extended outage in 2011 (something private providers almost never do).38 It also uses its smart meter data to inform customers if their power use has unexpectedly spiked, helping them avoid bill surprises. Some commercial customers, so impressed with the utility's reliability, have opted not to purchase expensive, redundant electric feeds.
Other Municipal Leaders
Several other municipal utilities have noteworthy accomplishments. Seattle City Light has energy efficiency programs saving 1% of sales per year. Denton, TX, already serves its customers with 40% renewable energy in 2013.
Others have local procurement programs for clean energy. These include municipal utilities in Gainesville, FL; San Antonio, TX; Long Island Power Authority, NY; Los Angeles Department of Water and Power, CA.
Below is part one of our City Power Play Report, a report released in October 2013 about the types of policy solutions cities can enact to increase their ownership of renewable energy. Be sure to come back and read parts 2 and 3, published in the next week.
For timely updates, follow John Farrell on Twitter or get the Energy Democracy weekly update.
---
Sign up for daily news updates from CleanTechnica on email. Or follow us on Google News!
---
Have a tip for CleanTechnica, want to advertise, or want to suggest a guest for our CleanTech Talk podcast? Contact us here.
---
Former Tesla Battery Expert Leading Lyten Into New Lithium-Sulfur Battery Era — Podcast:
---
---
I don't like paywalls. You don't like paywalls. Who likes paywalls? Here at CleanTechnica, we implemented a limited paywall for a while, but it always felt wrong — and it was always tough to decide what we should put behind there. In theory, your most exclusive and best content goes behind a paywall. But then fewer people read it! We just don't like paywalls, and so we've decided to ditch ours.
Unfortunately, the media business is still a tough, cut-throat business with tiny margins. It's a never-ending Olympic challenge to stay above water or even perhaps — gasp — grow. So ...