Climate Change
Published on February 14th, 2016 | by Guest Contributor
142
10,000 Years Of Sea Level Rise From Human-Caused Climate Change
February 14th, 2016 by Guest Contributor
---
Another reminder why we do what we do here on CleanTechnica (originally published on Sustainnovate):
By Henry Lindon
The sea level rise that will accompany unmitigated anthropogenic climate change will last for at least 10,000 years, according to new research published in the journal Nature Climate Change.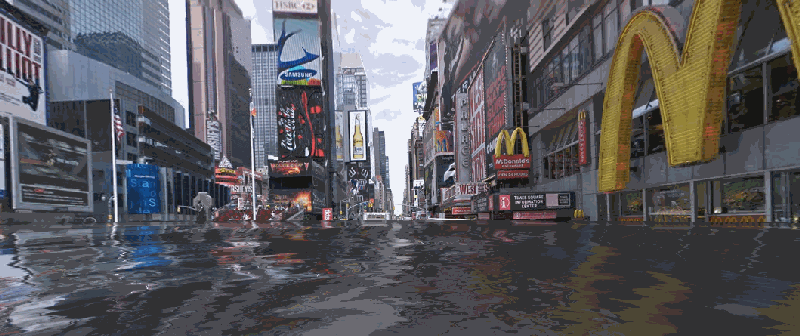 What this means, is that many of the most highly populated areas of the globe — many of which are now expected to go under the waves over the next few hundred years — will still be underwater nearly 10 millennia from now.
Even if emissions are rapidly curtailed and warming is kept below 2° Celsius (a very difficult task), roughly 20% of the world's current population will have to move over the coming decades and centuries as a result of the sea level rise that's already baked in (at least 25 meters). This includes major metropolitan areas such as New York City, Rio de Janeiro, London, Shanghai, Cairo, Calcutta, and Jakarta. Amongst many others.
Where will all these people go, you ask? Well, that's the million (actually, nearly 7.5 billion now) question, isn't it?
With warming above 2° Celsius, the situation becomes even more seemingly untenable — especially when one considers how long it takes (long in human timespans anyways) for atmospheric carbon dioxide levels to be reduced notably.
"Much of the carbon we are putting in the air from burning fossil fuels will stay there for thousands of years," stated Professor Peter Clark, of Oregon State University. "People need to understand that the effects of climate change won't go away, at least not for thousands of generations."
"The long-term view sends the chilling message of what the real risks and consequences are of the fossil fuel era," echoed Professor Thomas Stocker, of the University of Bern, Switzerland. "It will commit us to massive adaptation efforts so that for many, dislocation and migration becomes the only option."
The new work is important because most earlier work hasn't concerned itself with what happens beyond the year 2100 (or some other arbitrary date). Considering that large ice sheets are thought to take a fair amount of time to melt completely, these longer time scales are worth taking a look at.
"We can't keep building seawalls that are 25 meters high," said Clark. "Entire populations of cities will eventually have to move."
Or be abandoned, depopulated, turned into ghost towns, etc. An apparently very common process, when one really takes a look around at the ubiquitous remains of earlier cultures and civilizations.
Those who are now uttering under their breath something along the lines of, "Well, they'll think of something," might want to hear what the researchers themselves had to say on that matter:
"If you are very optimistic and think we will be in the position by 2050 or 2070 to have a global scale carbon removal scheme — which sounds very science fiction — you could pump down CO2 levels. But there is no indication that this is technically possible."
Another issue is that much of the heat generated to date (and carbon dioxide emitted) is already now in the oceans, contributing to increasingly strange weather, warmer temperatures, and melting ice sheets.
Image via World Under Water
Follow CleanTechnica on Google News.
It will make you happy & help you live in peace for the rest of your life.