Pairing Ceiling Fan And Air Conditioning Works Wonders In The Heat
Sign up for daily news updates from CleanTechnica on email. Or follow us on Google News!
---
This post was originally published on CleanEnergyResourceTeams.org
On those summer days that are particularly hot and sticky, the use of a ceiling fan in conjunction with air conditioning or natural ventilation may be your best choice to cool things down. The wind chill effect that increased air movement creates on skin means that turning on a ceiling fan will allow you to raise your home thermostat setting about 4 degrees with no reduction in comfort. From a conservation standpoint, it is important to keep in mind that fans should be turned off as you leave the room—fans cool people (through the wind chill effect), not rooms.
The US Department of Energy recommends that ceiling fans should not be used in rooms any shorter than eight feet high. Also, blades should never come closer than 8 inches from the ceiling and 18 inches from the nearest wall. Ceiling fans are a great choice for the summer months, but will likely not reduce your heating costs in the winter. The extra movement of air will also cause a wind chill effect in the winter and may prompt homeowners to unnecessarily raise their thermostat temperatures during those cold months.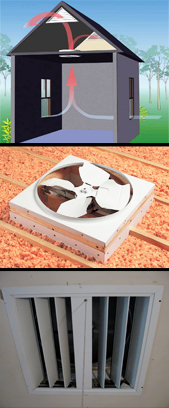 In addition to getting a cooling effect from ceiling fans, you can achieve considerable home cooling through the use of a whole-house fan. A whole-house fan is installed in the ceiling between a living space and attic. With windows and doors open, it pulls air through a living space and pushes it into the attic space, then forcing the air through the gable and/or soffit vents. As long as the air outside is cooler than indoors (most common in the cool evenings and early mornings of summer), then the fan provides actual cooling.
In technical terms, a whole-house fan is capable of moving air at a flow rate of 4,500 to 7,500 cubic feet per minute. If a home has 1,500 square feet of living space, then the air can be completely refreshed every 2 to 3 minutes with a whole-house fan. It would be great if that meant our homes would cool this quickly, but unfortunately all the objects in our homes and the homes themselves hold heat and so a whole house fan must run for a couple of hours to cool a home down to the outdoor temperature.
In comparison, box fans are portable appliances which can provide cooling effect or air flow depending on its use. If a box fan is simply set-up in a room and directed toward people, then it will provide the cooling effect similar to a ceiling fan. Alternatively, a box fan could be set-up in a window to direct air outward while other windows and doors are open in the house. In this configuration, it will provide air flow through the house and act more like a whole house fan. However, box fans typically have flow rates of 2,000 to 2,500 cubic feet per minute and will take more time to cool down an entire home in comparison to a whole-house fan.
There are also adjustable fan systems specifically designed to fit in windows, but the flow rates offered by these systems range from 250 to 1,500 cubic feet per minute. It is best to set-up fans in windows located on the side of the home that is calm (not receiving the full force of the wind) and shaded, if possible. Multiple window fan systems may be needed to get the desired air flow and cooling.
| | |
| --- | --- |
| Cooling Option | Energy Use |
| Central Air Conditioner | 2,500-3,500 watts |
| Window Air Conditioning Unit | 500-1,500 watts |
| Whole-House Fans | 200-350 watts |
| Box Fans | +/- 100 watts |
| Window Fans | +/- 70 watts |
| Ceiling Fans | 25-90 watts |
Other home cooling tips include: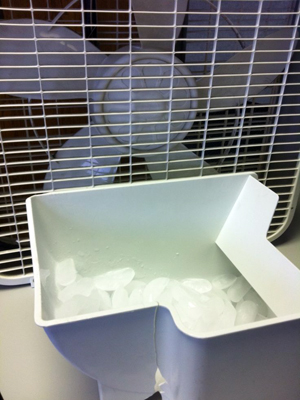 Before leaving your home, close all blinds to block out sun during the day and make sure windows are shut tight to keep all excess heat out.
Use clothes lines to dry laundry instead of creating extra heat in your home with the dryer.
Keep your kitchen cool by having a cookout or grilling meals outdoors.
There should be no need to use a dehumidifier at the same time the air conditioner is running. Air conditioners provide dehumidification and a dehumidifier generates heat, forcing the air conditioner to work harder.
On that last note, do activities that will increase humidity like showering and washing dishes later in the day when it has cooled off outside
Replace incandescent light bulbs which emit heat with fluorescents. Check out the Right Light Guide for more lighting information.
Turn a fan into a homemade AC unit. Place a bowl of ice or frozen water jug in front of the fan so that it blows cool air.
Consider doing some outdoor landscaping to help keep your whole house cool. See great landscaping tips here.
Click here to view additional fan information on the US Department of Energy's website >>
---
Have a tip for CleanTechnica? Want to advertise? Want to suggest a guest for our CleanTech Talk podcast? Contact us here.
---
CleanTechnica Holiday Wish Book
---
Our Latest EVObsession Video
---
I don't like paywalls. You don't like paywalls. Who likes paywalls? Here at CleanTechnica, we implemented a limited paywall for a while, but it always felt wrong — and it was always tough to decide what we should put behind there. In theory, your most exclusive and best content goes behind a paywall. But then fewer people read it!! So, we've decided to completely nix paywalls here at CleanTechnica. But...
Like other media companies, we need reader support! If you support us, please chip in a bit monthly to help our team write, edit, and publish 15 cleantech stories a day!
Thank you!
---
Advertisement
---
CleanTechnica uses affiliate links. See our policy here.
---